8 Steps to Social Media Blog Distribution for Inbound Marketing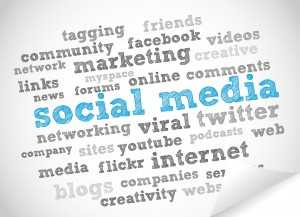 For inbound marketing, social media has a few purposes that really help grow a follower base for small businesses that useinbound marketing.
One of these purposes is social media blog distributionand SEO. Based on my own research and work with client blogs and websites, social bookmarking and distribution has helped with the SEO rankings and indexing of new blog posts and content on client websites.
Our Social Media Blog Distribution Process
Publish the blog post
Immediately Stumble the post with StumbleUpon
Go to Facebook and share the link with an update on your fanpage
Tweet your new post including your @username and any related hashtags (yes I realize a lot of people do not want others to use hashtags, but while they work, you might as well use them).
Inside Hubspot use the social media tool to tweet out your post with a comment, not the title of the post, several times over the next couple of days, and then periodically for a couple of weeks.
Share the post on your personal Linkedin profile (or the client's), on their company page, and in groups
Plus the link on Google + for the SEO benefits (and because it is a growing social network)
If you are in a B2C industry, you should make a pinable image and Pin it to your network on Pinterest
There may be other social networks or social bookmarking websites that you want to share to, for instance Reddit, BizSugar, etc. It will depend on the client's or your own industry.
How does social media blog distribution help?
For starters, stumbleupon will bring in some immediate traffic, and may be useful in indexing your post for SEO. You want to share on Facebook because if you have any kind of following you may get traffic, and having the links on your fanpage/timeline looks nice to new visitors.
For Twitter, you want to post quite a few times to get the most traction. When and where you can, use different quotes from the blog post on Twitter. It's a good idea to use theHubspot tool to preschedule for the next couple of weeks to make sure the blog posts gets some real traction.
Depending on your industry, you could get quite a bit of traffic from Linkedin, usually you will see a lot of it coming from the groups, where people go to find good content. Make sure you are part of groups that want to see your content.
All together you should see:
Immediate traffic
Indexing
Trickling traffic
Retweets, favorites
General traction for your newest content
Professional conversation on Linkedin
It's great to get some immediate feedback on your new content, but there is another reason that this helps. This shows you how well the content is received, and lets you plan for other ways to use this same content. When you get great results immediately you want to share it more.
Social Distribution for Great Performing Content
Facebook groups
Email to particular friends or colleagues that you think will enjoy the piece
Your email lists
Skype conversations
Smaller social bookmarking sites- Digg, Delicious, etc
Teaser posts on article marketing sites
Teaser posts on wordpress, blogger, tumblr
Turn the post into a presentation for Slideshare
Turn the presentation into a video for Youtube
Read it for an audio version of the post
Forum signatures
Forum posts where allowed
Tagging others into posts on Twitter who would like the post
Additional pin images for Pinterest
Google Plus communities
Why Use This Method of Distribution?
If you look at your client's website and they are not getting shares, likes, pluses, stumbles, etc or even visits to their blog posts, this is a great way to help them build an audience. That's what social media allows you to do, build an audience to benefit a small business in so many ways.
When you are working on inbound marketing, it can be easy to overlook the benefits of social media, when there are so many factors to get right, if you could use some help, please let us know. We offer white label services for social media for marketing agencies that want to provide full inbound marketing services but do not have the expertise or time to cover social media.
© 2013, Social Media Consultant. All rights reserved.