9 Social Media Dashboards To Manage Multiple Social Media Profiles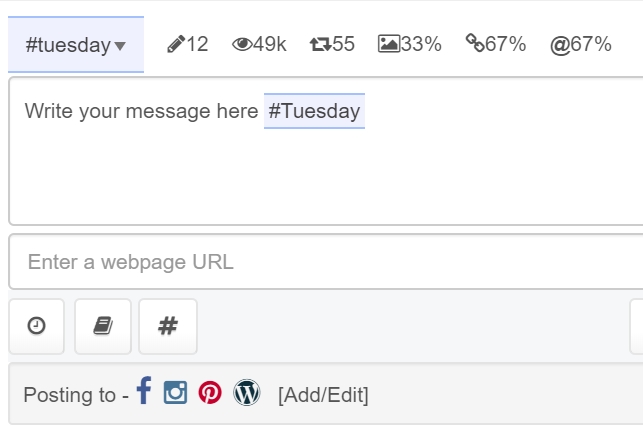 A social media dashboard is a program or website that allows you to manage many of your profiles in one place.
For instance, you don't have to go login to Facebook, Instagram, Twitter, Linkedin, Pinterest, Feedly, etc. You can make updates, manage notifications, mentions, direct messages, etc.
Social media dashboards make social media managers' lives easier. If you are looking for Hootsuite alternatives or Buffer competitors, this article will help too. Let's look at 9 social media dashboards.
---
Fan Page Robot– is my favorite social media tool as a Buffer alternative. I love its user-friendly interface. They make it extremely fast to navigate. It's also the easiest social media dashboard I've ever used.
It allows you to auto post to Instagram without a phone, which is a great feature missing from other social media management tools. Other than Instagram, it supports auto posting to all the biggest social media networks and blog platforms: Facebook, Pinterest, Twitter, LinkedIn, Google+, Shopify, Blogger, Tumblr and your WordPress websites.
As the name suggests, one of its most unique features is that it can automatically create content based on your keywords and run all your fanpages on autopilot. I love infographics and can just find all the good content I need by searching keywords like "social media marketing infographic 2018".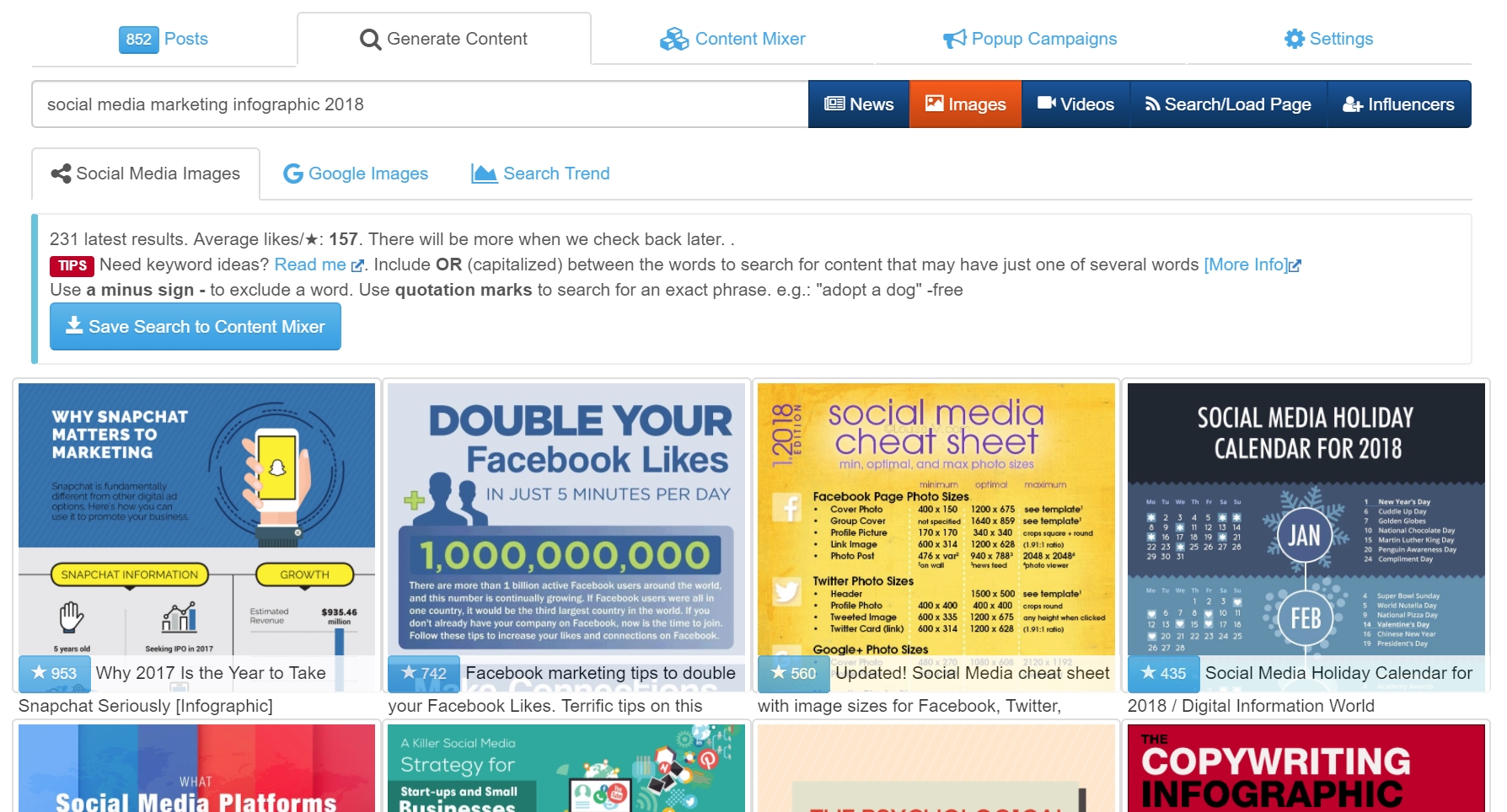 It's definitely a big time saver for the web marketers and social media managers. You should also try this software if you want to be a resourceful contributor of content for the social media pages that you're managing.
Some other features I found helpful for business owners and social media account managers:
A template-based campaign builder to create advertising and lead generation popups.
– It helps you monetize your link posts on social media.
Automatically fetch videos from websites and post them to Facebook as native Facebook videos.
– Native video posts on Facebook gain much more attention and engagement than any other kinds of content.
Being able to automatically add watermark to images.
Suggest better hashtags to get your posts discovered.
Datorama– If you are on the way to hunt a social media dashboard for large businesses, Datorama is literally an incredible tool that will integrate the marketing channels and map data into an easy to use interface.
You can integrate any data source for enhanced insights and performance measures. The tool can connect data from a number of channels such as social media activities, Facebook ads, Twitter reports, etc.
I like it has a large drag and drop visualization library allows me to easily setup and personalize the dashboards.
Market Me Suite– I like this interface, but they have changed the pricing and allowed social profiles for free accounts a few times.
I believe on my last try you could not monitor your fanpage without paying for an account. It is nice for other features, smart inboxes, monitoring keywords, and indicating leads.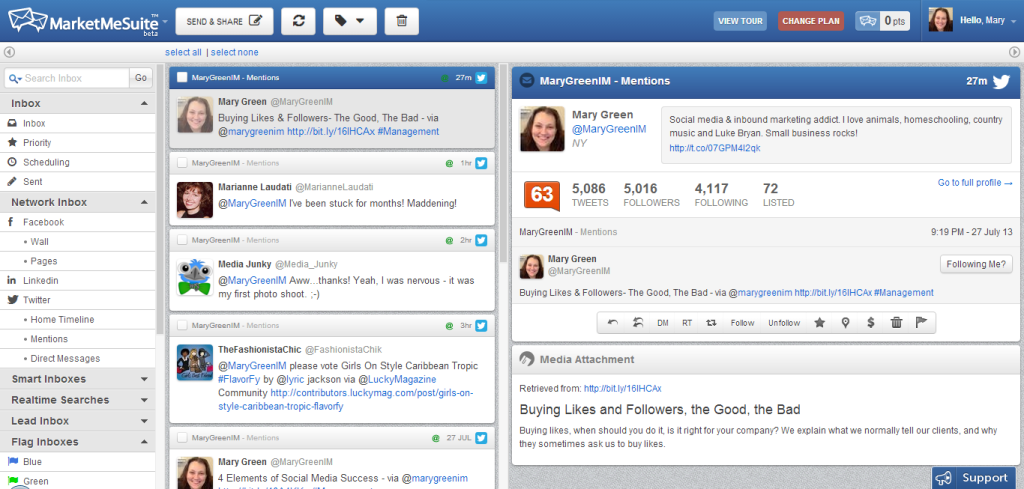 Pinterest Automation– Another dashboard, monitoring, search and reporting tool that includes some unique features.
The topic profiles let you track people and users on social media accounts, including Pinterest, Youtube, Instagram, and Blogs, you can compare and combine your posts, and last but not least, there is an option for sentiment trends.
At $9 a month Pinterest Automation did everything I needed on the main accounts, and had nice PDF reports as well.
Viralize Posts– This social media dashboard can only help you manage Facebook and Twitter right now, but they offer some features that are useful for managers.
The free account is useful to show you how informative the tool can be, but the extended account provides unlimited post history, and hourly statistics.
The more exact your statistics are, the more useful they are to help you make appropriate changes to campaigns. You'll be able to monitor your accounts, compose messages and schedule out content.
They are working on adding LinkedIn to their tool, and I think they have an interesting future for statistics and reporting. The free account will take up to 5 fanpages, profiles, or Twitter accounts.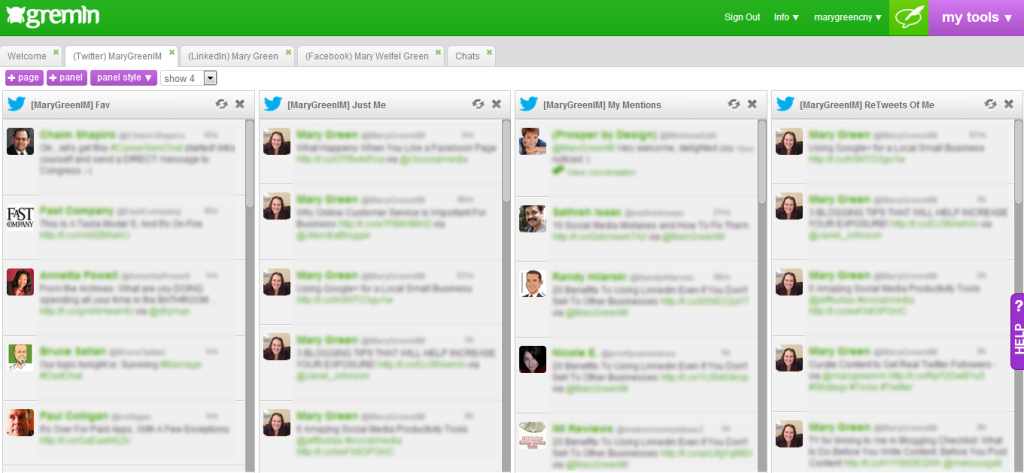 Gremln Social– I wrote about this Hootsuite alternative the other day, prices start at free and goes up for more profiles, users, groups, feeds, etc. I liked Gremln because it is a much brighter interface, and is easier to navigate than Hootsuite.
It gives you advanced searching for monitoring Twitter, and allows you to add Linked Groups. Unfortunately it only works with the Top 3 platforms at this point. They also have goals, reporting, link tracking, translation service and some other features that make the dashboard unique.
I give a full review of this dashboard here.
Sprout Social– This social media tool has a nice interface and many features. My favorite part of this tool is the reporting. They put it altogether for you and all you have to do is have it generate the PDF to send to your client.
Otherwise, they have a monitoring section, a social inbox, a queue system similar to Fan Page Robot, a browser addon, and rss feed reader.
The only issue I found with this reader is the price is a bit restrictive, especially when the alternative is less than $10 a month. With Sprout Social you get 10 accounts for $39 per month.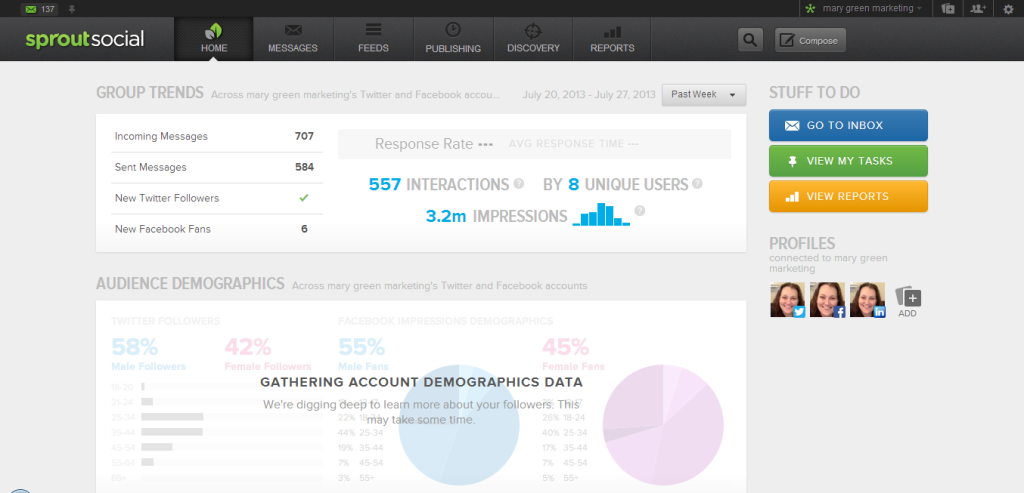 Sendible– Although I use Fan Page Robot and sometimes a few others listed here, Sendible is probably my second favorite.
They give you a lot of functionality when you are trying to monitor blogs, groups, accounts, crm, email marketing, sms marketing, etc in a social inbox. There is monitoring, searching, posting, scheduling, etc.
It doesn't work with Fan Page Robot though, so I had to use Feedly still. For those who want an all in one solution, this is very close and starts at $40 for up to 40 services. Keep in mind that every group you add on LinkedIn is a service, every account you add is a service, every blog feed is a service, etc.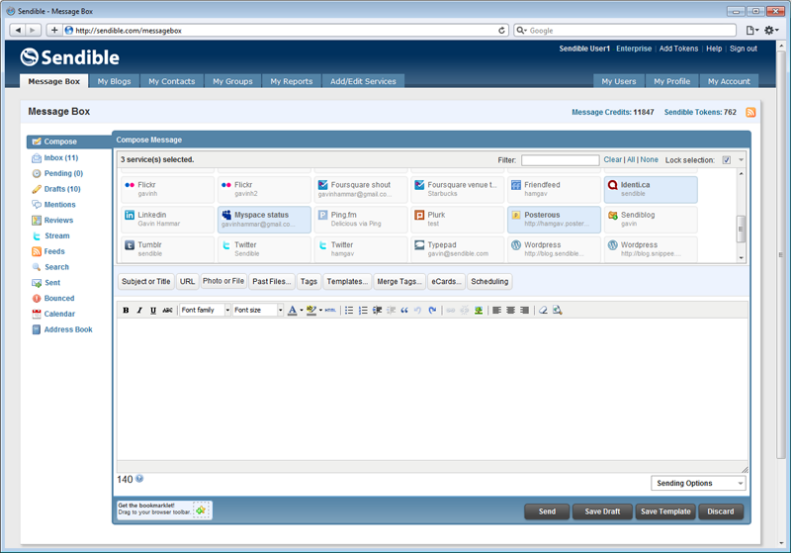 Media Funnel– If you'd like to see your previous Google alerts along side your social media management, Media Funnel is a great option.
They feature Netbase integration which is similar to Google alerts. They also send you emails about alerts, which is a nice addition. In addition to Twitter and Facebook, you can use Tumblr and WordPress from the Media Funnel dashboard.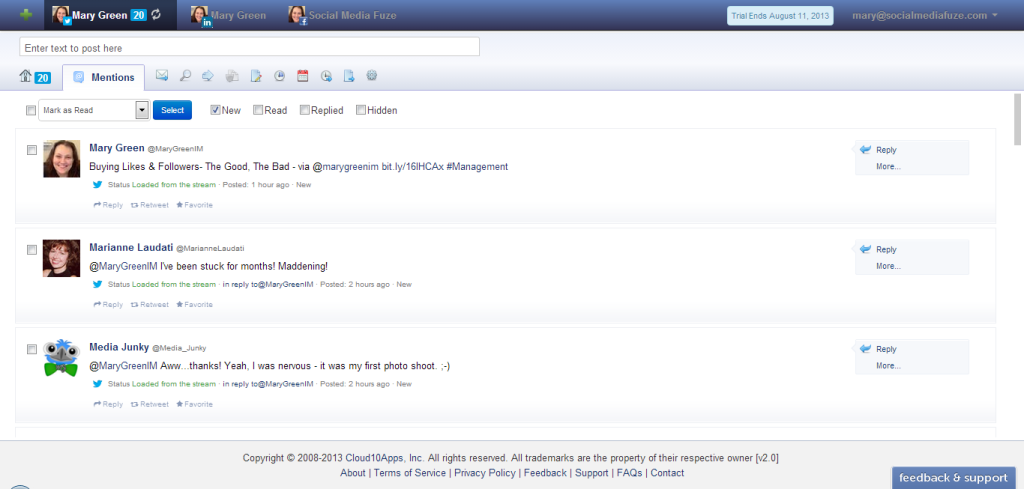 I like using these dashboards and access to the different features I can't always get to work in Fan Page Robot or Hootsuite. Sometimes a software just doesn't have everything I need as a social media manager, when that happens I use one of the tools above to get the results I need.
What About You?
Have you used any of these tools? Which do you like best, least? And, how come?
© 2018, Social Media Consultant. All rights reserved.