Gremln the Hootsuite Alternative for Monitoring and Scheduling Social Media
Being able to monitor several social profiles all at the same time and in the same place is very important for social media managers.
Regardless of whether you have one client (set of social media profiles) or many, Hootsuite has been regarded the TOP social media dashboard, but today I introduce you to Gremln.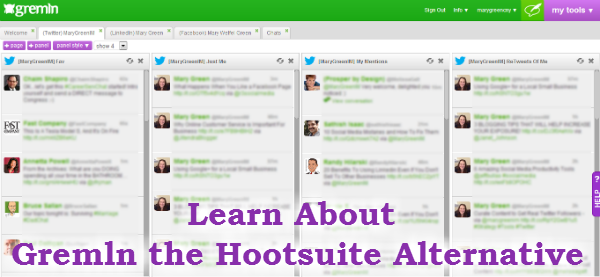 Streams are called Panels, and Tabs are called Pages
Design
To start with Gremln looks a lot like Hootsuite. The only benefit I think Gremln has over Hootsuite is the interface, it just looks a lot more friendly. For me Hootsuite has always been dark and unfriendly.
Light color interface
Easy tool navigation
Scheduling & Publishing Updates
As you can imagine there are quite a few options to publishing an update. There are so many profiles to choose from, link shortening tools, translation tool, character limitations, and scheduling options.
Translate updates to different languages
Shorten links to bit.ly or brev.is
Roll over to choose platforms and profiles (so much easier than scrolling through tons of profiles)
Recurring updates- easily done recurring daily, weekly, monthly within chosen dates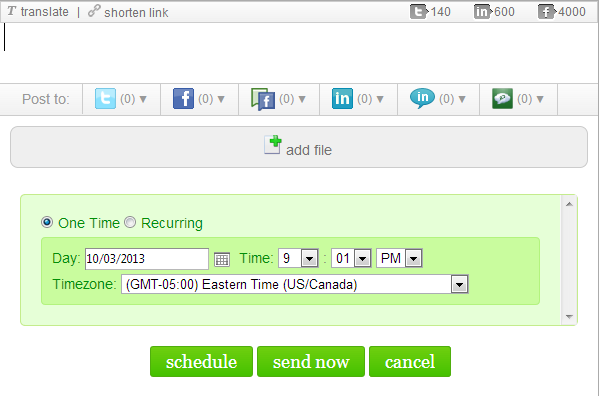 Monitoring
For Twitter monitoring there is an awesome interface to use. I love it. You can actually choose your location without needing Geo codes. You can do advanced search, that takes some maneuvering in Hootsuite. Check it out below:

More Tools

On top of having a great dashboard Gremln also sports some really nice tools that are easy to access, navigate, etc.
Under Posts, you'll find all of the updates you've sent from Gremln, really useful. This is comparative to setting streams in Hootsuite for seeing published posts, but you don't have to set it up.
Posts are separated by social platform.
You can easily search published posts
Export published posts
Calendar
The calendar tool will show you what you scheduled for future updates. You'll be able to edit and move posts. You can even view the calendar by day, week, month and a timeline.
Accounts & Sites
Add your profiles, including:
Facebook
Twitter
Linkedin
Linkedin Groups
Statistics
Gremln offers a host of statistics:
Brev.is
Twitter
Linkedin
Facebook
Facebook Insights
Klout (yes you can see your Klout score here)
Reports
Upload your own header to make it look professional for your clients, add sections of the report, export it to PDF. The wizard is very easy to use- no experience necessary.
 My Goals
Another tool allows you to make goals based on your accounts. For instance how many fans your fanpage has on Facebook, followers you have on Twitter, etc.
Brev.is Tracking
Last but not least, you can view your stats for Brev.is links from right inside Gremln
Why I Like Gremln & Why I Don't
I like Gremln, for a long time I've had a love/hate relationship with Hootsuite, and Gremln is a great runner up to the functionality.
Cons to Gremln vs Hootsuite
Pricing isn't as simple
Hootsuite has far more functionality with dozens of additional apps
Hootsuite offers training
It kept logging me out after being inactive
Pros of Gremln
Twitter accounts can be accessed by more people
Bulk posts upload
Rss Feeds
Groups and Users
Moderation
Starts at $6 (just like Hootsuite)
What About You?
Obviously there are many reasons to stick with Hootsuite. You can't beat the functionality of all of the apps they have. They also have mobile apps, that while I'm sure Gremln is going to make, they do not have now.
Lately though, a lot of people have been complaining about Hootsuite (especially on Twitter) and I'd love to Gremln offer them a free trial. There are also a lot of issues with the current iOS 7 updates that are getting complaints.
So, if you've had complaints about Hootsuite, try out Gremln, you might like it, and if we get active there, they will probably grow to give us more functionality.
If you have tried it, tell me about your experiences below.
Learn more about tools I use, in my upcoming Webinar & Video Series
© 2013 – 2014, Social Media Consultant. All rights reserved.