I'm So Embarrassed- I Don't Love Hootsuite for Social Media
Caution, this is a Rant on Hootsuite for Social Media!
As a fairly technical person I am comfortable going to a web app, logging in, playing around and finding the functionality I need. It doesn't usually take me long and I get the results without spending a lot of time.
For years I've played with my computer, completely deleting half of my operating system and needing to re-install it, and I could do it.
It might have taken awhile to learn how, but now if I have a virus issue I just do what I have to do, my computer runs great. This is all to say, I'm pretty good in technical situations. That said, I very much dislike, the interface on Hootsuite.
Hootsuite- My Love/Hate relationship
Everyone uses Hootsuite in social media, or at least they have at one point. It is easy enough to use to schedule posts, and offers the functionality everyone would want. There is a Firefox extension that makes it easy to schedule a post, there is a smartphone app for it, etc, etc. Nice stuff, that is, if you can figure out how to use it.
I can login and schedule a post for any of the 5 free accounts on my account (yes, I use the free version, because I don't really use it much), but the layout to schedule the post is all over the place, and my main complaint is that they have done so much to make it high-tech with the hovering and dragging and dropping that they have completely ignored the user experience.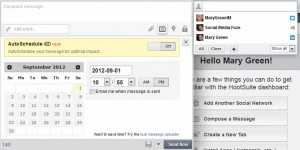 But the main idea of their product is Fantastic, I truly believe this, so if by some chance Hootsuite does see this, I think they do a great job.
To schedule a post I just enter the text, put the link (if there is one) in, pick a time and date, and save (even though that is greyed out) and inconveniently enough there is a BIG POST NOW button that I am sure people must hit all of the time.
But now I get this tiny little pop up saying I haven't chosen an account to post to, because while I was looking at the scheduling area, it doesn't ask, it's hidden over to the right, where I have to hover over a box that drops down to select the accounts. How often does this happen to people? And there is no option to select the same accounts for scheduling more posts.
I understand they want me to get a paid account and I can upload several posts at once, that I put together in a spreadsheet, but with my frustration with Hootsuite and figuring out how to use it for the basics, I don't want to bother.
Streams on Hootsuite
My next frustration with Hootsuite is adding new accounts, the option to do this is hidden in the sidebar, and while I've done it several times, I still can't figure out the easiest way to do it, and now that they recently made changes again, the site tells me I am lost and need to go to some other link, which I click and do, but there is nothing in this new place that tells me how to ever get back to it, which leaves me clicking about 8 times to get to the place to add new accounts, delete accounts, etc.
Once I do add a new account I get a stream (I think) that is at the top of the interface and looks like a tab, why they don't call it a tab, I have no idea. When I try to add a stream any other way, I can't get it to come up, or it asks me to enter keywords or search terms, and I am lost.
I know you can use Hootsuite to monitor and I've heard it can be quite useful, but I don't have all day to watch videos to learn how to use an interface like this.
I have accessed the Hootsuite University and I think it's great, but for what I need to do, it just isn't worth my time to invest in playing with all of the options on an otherwise difficult interface.
What Do I Do?
Instead of using Hootsuite I have worked with MarketMeSuite and really like their interface, I can easily add posts, monitor twitter, play with settings, etc, because it is all in a language I understand, and is easily navigated.
I don't have to watch videos to figure it out, and it is easy to use for everything I try to do on it. MarketMeSuite does not have the apps, and extensions or addons, but I've gotten past that with BufferApp.
What I wonder is, does anyone else have an issue with Hootsuite, or is it just me? I know there is sooo much it can do, but I don't want to waste my time when other tools do the same activities without the confusion.
I'm here to help people with social media and I need to have tools that make life easier. Tell me about your experience, I'm almost afraid to post this and see what people think, but I don't mind playing devil's advocate once in awhile.
© 2012 – 2014, Social Media Consultant. All rights reserved.