How to Use Social Media Personas with Inbound Marketing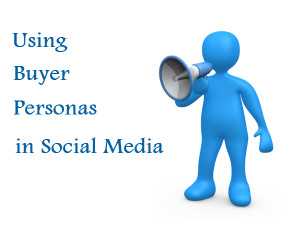 When using inbound marketing to attract clients to your business, one of the first things you will do is develop personas.
By coming up with 3-7 personas you can more tightly target the type of customer you want to do business with.
Personas are great for developing content, landing pages, and downloads, but what about using personas from your inbound marketing campaigns for social media?
The strategy for using social media personas is often overlooked in inbound marketing, as the focus for many agencies and small businesses is on SEO and blogging.
But, by taking the time to develop social media profiles that also deliver to your persona, you'll seemore traffic, results, and leads.
In fact, with social media, you can usually see all of these things much faster, making a great case for ramping up your social media efforts.
Using Social Media Personas- Getting Started
When you developed your personas you likely listed other websites, publications, or online communities your personas were likely to be found. For instance, if your client is Ashley Furniture, you can visit Quantcast.com to see where else your visitors are likely to go online.
Quantcast lists a few other websites, and website categories your visitors will be found, as well as the affinity for them visiting.
According to Quantcast, if someone visits Ashley Furniture online, they are 54x likely to visit La Z Boy and 6.2x likely to visit Home Depot online (Home improvement).
This leads you to believe that a large portion of your visitors also visit Home improvement stores, and if you dig deeper you will also see that these visitors are 4.2x more likely to visit Bridal websites. This information is gold for your persona and social media.
How to use this information?
Find Your Ideal Follower or Fan and Hijack the Conversation! On Facebook you might visit La Z Boy, Home Depot or other websites listed on Quantcast to become part of the conversation. Chat up their fans and do it regularly. You can get notifications for when these pages post, and then switch to your fanpage to get more exposure.
Target Your Personas Favorite Users Make Their Following Your Own– On Twitter, by knowing who your followers are, and what they like, you can target Twitter users that they would follow, and start following their followers. For instance, you know that Ashley furniture visitors likely visit Home Depot, so look at Home Depot followers and follow them.
Join Their Groups on Linkedin– This works particularly well if your client is a B2B company. For instance software salespeople might follow a particular publication group on Linkedin, where you can join and reach their members with your own posts and discussions.
Run a Promotion with Companies Your Personas are Likely to Do Business With– for instance,  Ashley could give away Home Depot Gift Cards, or join Home Depot in another way to promote both companies.
Make Boards They Will Like– On Pinterest you can put together boards that will entertain your followers, instead of just boards that you want to make, or that showcase your products. To make it successful, you need a combination of what they want and what you want to show them.
There are countless ways to use persona information to target your social media efforts, and increase traffic to your website, blog posts and landing pages.
Social media has a unique way of allowing small businesses to grow a following, and then distribute content to them, while also building relationships that will help a company grow. The possibilities are endless.
Have you already constructed your buyer personas? If you need help, or want to get more information about how to use your persona in social media, we are happy to help. Contact us or visit us on Twitter, Facebook, or Google+.
© 2013, Social Media Consultant. All rights reserved.