4 Steps to Truly Amazing Social Media Results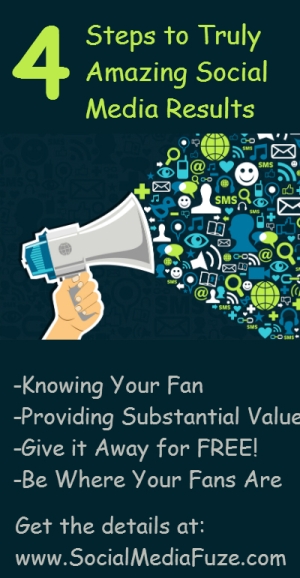 Just a guess here, but I think you want more fans/followers on your social media accounts. Am I right?
Who doesn't? Even when we know that having more likes and follows doesn't really mean anything, it is a start to a potentially beautiful relationship, so of course, the more the merrier.
Since you know that you need want more likes, you are probably taking some action to get them.
You might be running some ads, you have a campaign out there on your website, you are interacting on more fanpages or you maybe following others to get attention.
These are all tips that can make a difference in your following, but are they driving fans to you?
Not at all. To do that, you need something more, something substantial that will literally pull in likes and follows like you just hit the lottery.
But what does this? Let's figure that out!
Know Your Fans for Better Social Media Results
This is the most quickly dismissed and overlooked step that just about every company makes. They just want to skip to taking action. Don't skip this step.
You need to truly understand who your fan is. You need to develop a persona around them, answering these questions:
What is their profession?
What problems/pains do they have (that YOU can fix for them)?
Where are they active online?
What do they need/want from a company like your own?
You probably have a handful of ideal fans, so you should plan these questions out for each of them.
Once you've done this you'll have a good idea of why your fans would like you, what you can do for them, and how you can get their attention.
Create Something Substantial
Jay Baer, the author of Youtility, suggests in his book you need to offer something useful that people would pay for, if asked to.
The underlining thinking is you don't ask for it, but give it away for free. By being useful you aren't just offering good information (like everyone else) but trying to stand out as almost necessary.
You can do this for your target fans. Find out what their problems are, and give them solutions. And, the more you can think outside the box, the better.
In his book, he offers several instances of Youtility, but I've got a few ideas of my own.
Free Guides– As marketers, we've done a great job of giving away free guides for a variety of topics. But are these guides truly helping the visitor? Or is it just a guide that solidifies your expertise?
For instance, Jon Morrow gives away a guide on his blog that helps you develop blog titles for your blog and thus drive traffic and social shares. Implementing the headlines makes a huge difference in the traffic and retweets for every post I've seen it used on, and the guide isFREE! 52 Headline Templates that literally triple traffic and he GIVES it away.
Applications– WebMD probably has the most used application for health symptoms than any other website on the internet. It's been featured on television episodes, and people use it everyday. It's useful.
There are thousands of smartphone apps that are useful, and if they hit the mark with their target user, they've grown over the years.
Spark People has a website that gives away diet tips, strategies and personal tracking for success. It's just another useful tool that understands their market (like I suggest in step 1).
Give it away for free– This is the dreaded part that companies get sketchy about. After putting in months of development, thought, meetings, expertise, and man hours, the idea of simply giving something away can be painful to say the least. But, in a content crazy world, it's necessary.
Jon Morrow, offers a guest blogging course that goes for $600 (I'm a student there). And one of the best pieces of advice I've heard from him was in a free webinar to teach about getting more blog traffic.
He said that people used to say create great content and it will be found and shared, but the problem today is that everyone, or at least a lot of people, are creating great content, so it's hard to sift through everything out there and get found.
"When creating great content used to be the goal, it is now the minimum requirement. -Jon Morrow "
Delivering something spectacular is the name of the game, you have to go above and beyond. Whatever your competitors are doing, you have to outrank it. That doesn't simply take more and incrementally better content, it takes something truly amazing that resonates with your fans.
Participate where your fans are active– Now that you have something amazing to give away, you need to let people know about it. To start with, you should start participating where your fans are, remember the places we found them in step 1?
Now you'll write up a blog post, a press release, and start a social sharing campaign to get this awesome idea off the ground. Get ready, if all goes well, you'll never have to ask for a like again.
Conclusion
It's going to take time to deliver something so amazing your fans will gobble it up as soon as it is available. But, the pay off (if you succeed) is HUGE, and it is the one true way to get fans without running after articles like "How to get more fans and followers without lifting a finger".
How about you?
Do you have any suggestions about what others could give away? Have you seen truly amazing content that has made you like a fanpage or follow someone on Twitter? Tell me about it in the comments.
P.S.- I'm working on a database that I hope will be very useful to my followers. It should be here by January!!
If you need help creating something substantial for your fans, I'd like to help. We can do a consultation and I'll give you unique ideas for delivering something with real value.
© 2013 – 2014, Social Media Consultant. All rights reserved.