Is Social Media The Right Place to Spend Your Digital Marketing Dollars?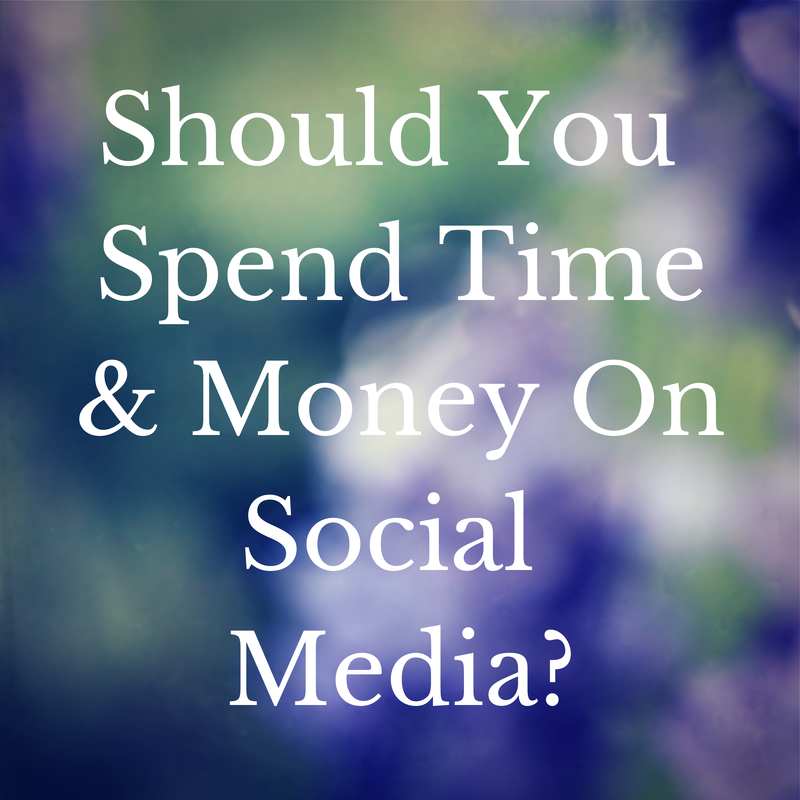 Marketing dollars might be difficult to come by, and when you start to decide where to use them, any strategy gets even trickier.
On top of that there is the division between the several types of marketing.
It makes you wonder how to divide it, where to focus, where to test and when to stick with what already works.
Obviously, if you are getting a good return on your investment in any marketing area, it's wise to stick with it, right?
Maybe yes, maybe no.
You see just because you are doing well in one area doesn't mean another area won't give a better return, but there is a risk other areas won't work for you- that is the problem.
The same questions you might be considering for any other area of your marketing budget, can easily be directed to social media.
Is it a wise investment, are you getting a return, can you get a better return somewhere else?
These are smart questions to ask. You don't want to jump into a marketing activity haphazardly as it puts your entire business at risk. But on the other hand I understand how enticing it can be to start playing with social media.
People want to use social media for marketing, for a variety of reasons, including:
Seeing competitors doing well on social media accounts
Several common marketing sources advise all brands to participate
It seems to be easy enough to do on your own
It seems like it won't take a lot of time
Other than your time, the investment is free
Most people are already using it for personal reasons, so business is just the next jump
You'll notice I used the word "seems" in a few of these, and that is because while it might look like social media is free, easy and not time consuming, the opposite is actually true.
As you struggle to build an audience, keep them engaged, provide entertaining and educational information, and handle customer service,  the time adds up.
You'll also come across trolls that want to ruin your social media presence, upset customers that want to leave bad reviews (how should you handle those?), a constant turn over of active fans, loss of reach, and platform changes.
Add to this, that you'll be researching what happened, what to do next, how to use all of the fancy tools and constantly watching your competitors, now it's easy to see that social media can be quite complicated, time intensive and a lot of work.
I'm not saying all of this to deter you, because there are a lot of benefits to social media, as well. The biggest for small businesses is the direct connection with so many of your personal customers, and that feels great. For larger companies, the exposure, branding and marketing opportunities are difficult to pass up.
I'm bringing all of this up, to help you decide whether social media is the right investment for your company. Here are some general guideline questions to ask if you are thinking about jumping into social media. Hopefully they will help you consider if it is right for you, and how much of your marketing budget it should command.
Do you have a way to track whether or not social media is working?
Do you know what your goals are for using social media and whether or not those goals line up with the common benefits people see from having a presence?
Are you doing it to fend off competitors, or to be more competitive with their strategies?
Do you have someone skilled in social media that can dedicate the time needed to make sure this works?
Do you have a plan to build a following and to engage them?
Where will you find content to entertain your followers?
How promotional should you be in your updates?
Where should you have a profile? Facebook, Twitter, Pinterest, etc?
How often will you post?
Who will run promotions/contests on the accounts, and what tools will you use?
How will you stay educated about social media, to remain competitive?
You'll have to take these questions and compare the answers with others about your over all marketing plan, to decide whether or not social media should be part of the budget.
You need to know:
Are other marketing activities already giving you  a good return?
Is your budget large enough to add something new?
How important is it for your company to have a presence on any social media channel? The bigger your brand is, the more customers and the public expect it.
At the end of the day, you won't come up with a definitive yes or no, but you should have a decent idea about whether social media is a risk your company should take.
If you have any questions, feel free to contact me and ask. I'd love to help you make the right decision.
© 2014 – 2015, Social Media Consultant. All rights reserved.