10 Variables To Consider for a Social Media Marketing Budget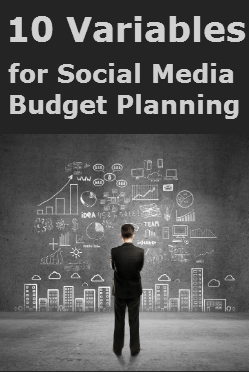 Social media, like any other form of advertising or marketing, can not simply be funded without caps and return on investment playing a role.
Crafting a budget for social media is different for every company based on several elements that vary across the board, because of the time and money investment necessary depending on the size of the brand.
Fortunately, most of these variables exist for every business considering social media for business use.
Not in any specific order, these are the variables that need to be considered when building a Social Media Marketing Budget.
Overall marketing budget– You'll need to know what the overall marketing budget is, because even if social media takes a large portion of the entire budget, there will inevitably be other marketing costs to consider.
The CEO or CFO should be able to give you a working value to estimate your budget. If not, start with an ideal budget that can be slimmed down if it is rejected.
Employee costs– How many employees do you have working in social media? How many should you have?
The going rate for an in-house social media manager starts around $40,000 per year, plus benefits. A decent indicator of how many employees you will need for social media is how popular a brand is.
Tool costs– There are many tools that are used for various reasons in social media. Some enterprise tools give access to advanced features for handling all activities in one dashboard.
Many of these tools start at $500 a month, but if your company has a popular brand, this expense is easily worth the cost. For smaller businesses, a handful of tools would work, including Hootsuite, Bufferapp, Feedly, and Sprout Social.
Decide on the features needed to effectively handle social media processes and add relevant tools to your budget. Volume will play a major role in choosing tools.
Content creation & Images– Social media will only thrive with content. Your content will be used to bring visitors to your company's website, and into the sales funnel.
Content should include: blog posts, ebooks or other downloadable pieces, press releases, articles, guest blogging posts, webinars, videos, infographics and other images.
Graphical work is an additional aspect that should be considered. Social media platforms like Facebook, Pinterest, Google+ and even Twitter are integrating visual content as more people like sharing, responding to, and using photos for personal and business use.
The saying "a picture is worth a thousand words" is more true today than ever before with the ease of taking and uploading photos to share with friends and family.
Adding text to images for business use adds more depth to a topic and gets more shares and views than text only updates.
Platforms– How many of the top social media sites will your company participate on? The more you participate on each one, the more money there will need to be in the budget.
Take the time to research the best platforms for your industry and include the most important in your budget.
Promotions– Each promotion you run should have its own budget, and planning a few per year should be plenty for each platform.
Included in your budget for promotions should be additional advertising, the prize itself, additional hours for promoting the event on other social media platforms, written content, tools, and graphics work.
Time Investment– Will you be planning and executing your own social media plan? If so, you need to consider how many hours a week you can afford to devote to writing updates, responding to visitors, examining your ads, and community involvement.
For larger brands, CEOs play an important part in social media, and their time investment must be considered as well.
Can they devote an hour a week, or an hour a month to have a live discussion with followers? Who else in the company might be needed for interviews, content creation, etc? How much time will they be needed and how often?
Customer service– Many brands are now having to dedicate customer service time to social media mentions. Customers have found it convenient to get questions and concerns taken care of on social media.
This has been beneficial for companies because many questions are often asked repetitively, but being in a public forum can clear up issues before too much time has to be dedicated to phone calls and email support.
Because of this change there will most likely be some over lap between social media and customer service. Which department will handle the mentions? How does that affect each department's budget?
Advertising– Each platform has their own ads system a company can use to get more exposure and following. Consideration for the advertising budget should include which platforms look promising after testing, what the goal of the ads will be, and how long ads will be run per month.
For more active social media accounts, a large fanbase can mean less need to advertise. Smaller brands can more quickly grow their followings by using advertising to increase likes, follows, and traffic.
When running a test for an ad, I recommend starting with $100 to test how quickly that will go. There are many variables to consider when writing the ad and the social media manager should spend time researching the demographics they are targeting.
Changes– Last but not least, remember that social media changes daily. There are new social media toolson the market that change how work is done, and how fast it takes to do it.
Just last week my favorite Twitter tool changed from taking 5 minutes a day to use, to 20+ minutes. Your budget will have to be flexible, to a point, based on company goals and monitoring.
Now What?
It's time to sit down and put the numbers together to see where your budget falls. I wish I could offer you a better estimate, but every brand will see much different numbers once taking all of these points into consideration.
What do you think?
What has helped you come up with a budget for social media marketing? How do you maintain it with all of the industry changes? Tell me about it in the comments.
If you need help setting your social media budget, I offer consultations starting at $150 per hour, please contact me to hear more.
© 2013 – 2014, Social Media Consultant. All rights reserved.