How To Find Experts in Your Industry on Twitter
How to find experts in your industry on Twitter? Are they active on social media?
Like most small businesses you are probably focused on using Facebook.
That's where everyone is, right? Actually, no. There are a lot of reasons to not focus all of your efforts on Facebook.
We covered this in a couple of posts before, because Facebook is going through some growing pains (trying to make money to keep investors happy).
Is Facebook Working for Small Businesses- Debunking Myths
Is Facebook Worth it For Small Businesses?
In response, it might be time to put your efforts in another site, enter Twitter.
The Quickest Way to Find Experts in Your Industry on Twitter
To get started, you'll want to go to Twitter and sign up. You have to do this in order to be able search for keywords there.
Once signed up, the easiest thing to do is to search for your industry, use the keyword that describes your industry best.
For instance: dog training, cloth diapers, organic recipes, SEO, coaching, animal behavior, etc.
Your results will look like this:
Be sure to click Who to Follow -> View All on the left side of the page.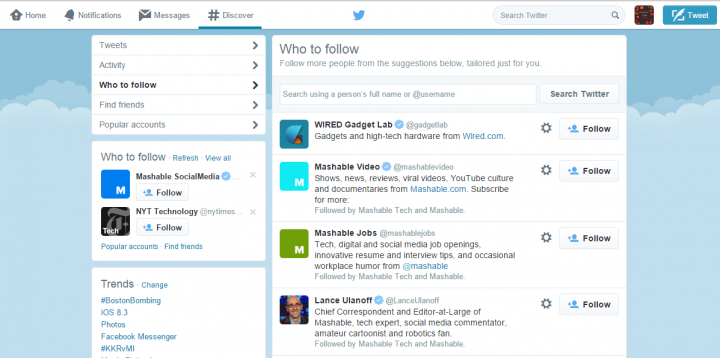 Chances are you'll see a lot of results, the page scrolls down, further and further, and you can click on each of the experts to see their tweets.
Follow those that are part of your industry, and begin responding to their tweets. It doesn't take long to build relationships with other experts who are interested in the same topics as you, and as you become more active you'll get more followers.
Every Industry is Active on Twitter
Just about every industry is active on Twitter, and growing your following is so much easier when you can reach out to other experts who are interested in the same topic as you. Go ahead and get started, you'll like it, and find that being active there is beneficial to your business, maybe even more than Facebook.
© 2015, Social Media Consultant. All rights reserved.