10 Tips From Guy Kawasaki On Building a Social Media Following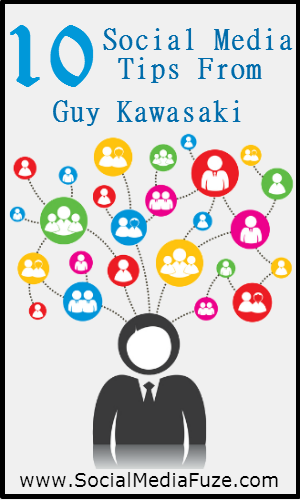 One of the things I love about social media is how it constantly changes. To stay active you have to stay educated.
That's what I was thinking when I decided to listen in on Guy Kawasaki's interview with Hubspot "10 Tips for Building a Social Media Following".
We've all heard of Guy before, but I hadn't spent a lot of time listening to him or reading his content. I knew he was an expert but to fair at first I thought he was the writer of the Rich Dad, Poor Dad series.
I couldn't figure out what the correlation between being a rich dad and social media evangelist was. To be honest I didn't research it to find the answer either.
I know the difference now 🙂
In the interview Guy had a lot of advice, a few pieces that really stuck out to me. After trying some of them out, I'd like to share my thoughts.
Facebook- Post more often
Guy mentioned that he often hears social media 'experts' say to only post to their fanpages once or twice a day. He says they are wrong, that you should update more often and I agree. The more often I post on any fanpage the more reach I get. Not only do I reach more people in general, I reach more of my own fans.
In fact, in AgoraPulse it shows that I've reached 82% of my own fans in the last week. While that number only reflects my fanpage, I've noticed this in the past with client accounts. Here's why:
Chances are your followers are on at all times of the day. While on Facebook you can see when more of them are on and then post at that time, you are still missing the rest of them. For instance if Facebook tells me that on Friday night more of my fans are on than any other time, I might want to post then. But what about all of the people who aren't on at that time?
When you post several times a day, you reach more people. You also get more comments when you post more often. On Friday nights, you might get 5 immediate comments, later in the night you get a few comments by other fans, and then on Saturday morning a few more from still other fans. Altogether you've reached more fans and have gotten more engaged fans than just posting once.
Here's the problem I see companies having; not knowing what to post. People are afraid of posting the same things again and again, or not really having enough to say about their industry. They get stuck in writer's block for just a few sentences.
When I don't know what to say (which isn't often):
I look at my fanpage feed and share something from there.
I start surfing through my fanpage likes and looking at other fanpages to come up with an idea.
I run over to Hootsuite and boot up the Zuum app to find updates based on my topic.
I go to #tagboard and search relevant topics
Earn the Right to Run Your Telethon
Guy is a fan of NPR, a very popular radio show that is extremely informative. They kill it when it comes to content marketing. All year long they run these shows and then do a telethon to raise funds.
Although people don't love a telethon, NPR does such a great job delivering value all year long, most listeners don't mind. They also don't mind donating.
With this tip Guy is discussing how so many companies are using social media as a bulletin board. They post one link or promotion after another never providing real value to their followers.
Not only will this lead to less fewer fans but it will lead to a higher turn over rate in loss of fans (or those you reach on Facebook).
Know the Platform
I'm going to paraphrase what Guy said when he mentioned understanding each platform. In order to build a following you have to know what the followers expect on each site.
On Facebook people join to connect with family, friends, schoolmates, etc.
Twitter is all about perception- sharing your point of view in the world.
Google+ is about passions, and I might add, it's a great place for that, especially with the circles. I've had circles for homeschooling, social media, parenting, and pets.
He goes on to say that Linkedin is for 'pimping' your business (his words not mine).
And Pinterest is about expressing yourself. I particularly use it to save all of my favorite links and graphics. I often refer to my Pinterest boards as "these are a few of my favorite things" — from "The Sound of Music"
What I like about Guy's comments on knowing the platform is that it helps people understand why they shouldn't post all of the same content on each site. Does Twitter really need to be connected to Facebook, or vice versa? I don't think so.
Any Consumer Facing Business Should Be On Social Media
Any question about whether your business should be on social media? Guy had a very simple answer: any consumer facing business should be on social media.
If your company is selling to the general public there is a place for you in social media. You can set up profiles and start providing your market with valuable, fun, educational content.
Even companies that sell to other companies should be on social media. As Guy noted in the webinar "[social media] works for b2b companies as well- at some level every transaction is between two people". And for those who say it doesn't work for them, look at it this way: "Are you selling more or not? If not, you are doing it wrong"- another quote from Guy.
I enjoyed listening to Guy Kawasaki in his presentation for Hubspot and I think any company seriously considering social media should listen to the entire webinar. The presentation was less informative because it just shows the topics, not the commentary where all of the real value was.
There is a lot more in the webinar, and here are a few more tips I picked up. My commentary is in the blue.
When it comes to a controversial topic – stay positive or stay silent.

What can I say, he's right, far too many times I have opened my mouth to insert my foot. I've even gotten used to the taste of my feet – that's how often it's happened 🙂
Repeat your updates on Twitter- Guy posts his own posts 4x over 32 hours.

I almost always retweet my own blog posts, I try to use different wording but it definitely makes a difference in traffic.
It's better to take the heat from posting more, most people post too little.

Someone will always be unhappy with what you are doing, that's their issue, do what works!
When people get upset from something you've posted tell you saw their comment, you are sorry and you are wrong and then take it offline.

Simple crisis management.
Don't listen to a social expert with fewer likes than you.

I don't want to scare away business but it's better for me to do that than to have my followers misled by someone who says they are an expert yet has no real experience.
Visit AllTop to find awesome content.
© 2013 – 2014, Social Media Consultant. All rights reserved.