Content Promotion- Not Where, But How To Promote Your Blog Posts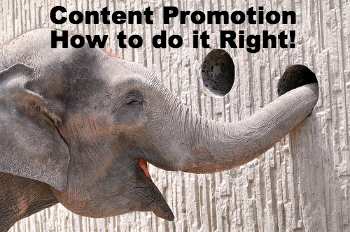 If you are like many others, you find it frustrating when you take a beautiful piece of content and publish it, only to see days later that three people have visited.
How disheartening!
After all, you pay a decent blog writer $100 or more to write about a topic at the center of your company's purpose.
Since about two years ago I started helping companies get their blog posts and other pieces of content in front of those who are likely to read it, need the information and take action on it.
Certainly with the help of social media websites, bookmarking, email software and chat programs, it has become much easier to find places to earn a readership.
But, the vast majority of companies are still not promoting their content, and it isn't getting the attention it deserves from potential readers.
This is a big problem, a problem that content promotion can certainly help solve.
How important is content promotion?
Almost as important as the content itself.
While a new blog post will eventually bring search traffic to your website, that takes weeks to months of time, and if it wasn't optimized, or written about a keyword that receives decent search volume, it can be several months before the post begins to pay off for your social media and blogging investment.
On top of this, if you are blogging regularly (as you should be) you are posting multiple times a week. At 3 posts per week and waiting months to see a return, your investment and ROI is not providing the results you need to see.
You also want to consider the fact that if your posts are time related, and you are waiting months to get traffic, you could be wasting your time and money.
This is one reason evergreen content is suggested, but in some industries like tech- there are too many changes for every piece to be evergreen.
What is content promotion or distribution?
Contrary to popular belief, content promotion is not blasting your links across social media websites. There is a lot more to the process and it all begins with knowing your target audience.
Who is the content written for?
Is the piece written for a certain industry? Is the piece a landing page written for people with a specific problem you solve?Why is this important?
When you know who you want to read your piece, you know where to start your content promotion journey. From email lists to certain influencers and even groups you participate in, not every piece you write is going to be welcome in every possible distribution place.
Not becoming a spammer
While you want to get your content in front of everyone that could possibly benefit from it, it is not a good idea to share it everywhere, when it doesn't fit. You won't want to share a piece on dog sitting to a group of social media marketers, because they won't read it.
Over time doing things like this will lead to you being labeled a spammer, and from then on no one will want to read your posts, in fact, in some places your account will be suspended or deleted.
HOW to post your content
It isn't only important to figure out the best places to target your audience, it is important to know how to post the content. Simply throwing up your links won't suffice.
Social media examples
While I already said you can't simply blast your social media accounts, you can and should use them- where they make sense.
If you have several Twitter accounts and Fanpages that have nothing to do with the topic, do not waste your time with these profiles.
For the social accounts you have that are relevant, you have to use them wisely.
Twitter
Now that you've finished the blog post and you've covered everything on my Blogger's Post Checklist, it's time to publish your post. Then the next step starts, we will begin with Twitter.
Your post is live, the simplest thing you can do is go to the post page and start clicking the social share options, beginning with Twitter. The first tweet can be your the title of your post, and your link (this will be shortened) plus a couple of relevant hashtags.
For example:Content Promotion- Why, Where, How & More http://shortlink.com via @marygreenim #content #socialmedia
That's fairly simple.
Next hit the Buffer button in your browser or in your sharing options. You'll schedule 3-5 more tweets about your new post over the next couple of days. Each should be a little different, see as follows:
1- Why you need content promotion for your newest blog posts & where to do it http://shortlink.com via @marygreenim #content
2- Everything you ever needed to know about content distribution, right HERE http://shortlink.com @marygreenim #content RT
3- Content Distribution- Your Complete Guide, please retweet http://shortlink.com @marygreenim #content #social
4- The Best Destinations for Blog Distribution http://shortlink.com @marygreenim #content #promotion #socialmedia
5-How I Got 400% more Traffic- http://shortlink.com @marygreenim #traffic #content Please Retweet
Schedule these out every 6-8 hours.
You'll notice I played with different titles, different tweet styles, lowercase and uppercase, hashtags and more. This helps you see what is working once you look at your analytics and traffic statistics.
If you want to get even more from your Tweets schedule them with a photo that represents your post, on average these tweets get better results.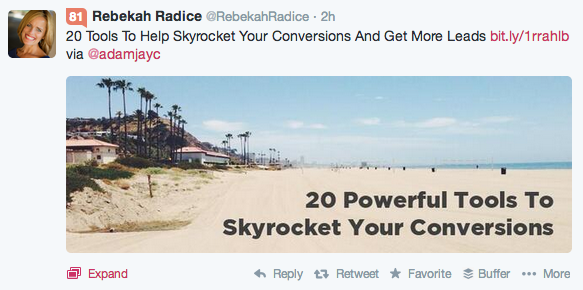 Facebook
Your Facebook update should not just be a link, with the description pulled from your site. Instead it needs to have an image from your post, the link to the post and an introduction to the post.
For instance, I might write the following for this post:
Are your blog posts getting immediate visitors? If you are like many your answer is probably no, but I can help you change all of that- RIGHT NOW! You can begin getting immediate traffic to your blog by reading my newest post on #content #promotion.
This is how it looks in comparison between the three ways you can post: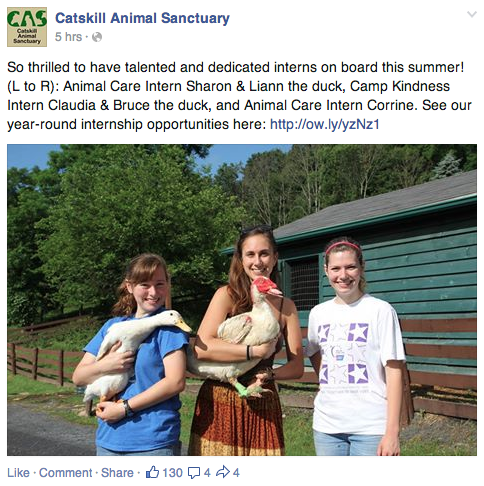 With an image, link and introduction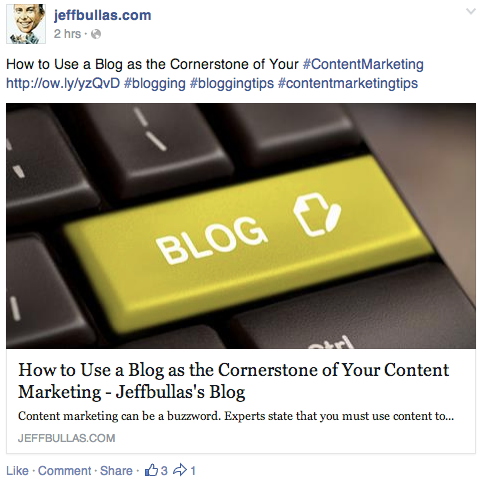 With the title, link and picture automatically pulled from the site- done by having appropriate coding on your site.
Of course on Facebook, your post won't reach a lot of people, unless your advertise it. Jon Loomer does not suggest using the promote a post option, so please read more about this on his site.
If your audience is active on Facebook, it is worth it to pay for advertising here, it is inexpensive and can be very targeted per Jon's suggestions.
Other Examples of Content Promotion
Email
One of my favorite bloggers is Adam Connell at Blogging Wizard. His posts are visually beautiful, are packed with information, and he sends out a great email for each one.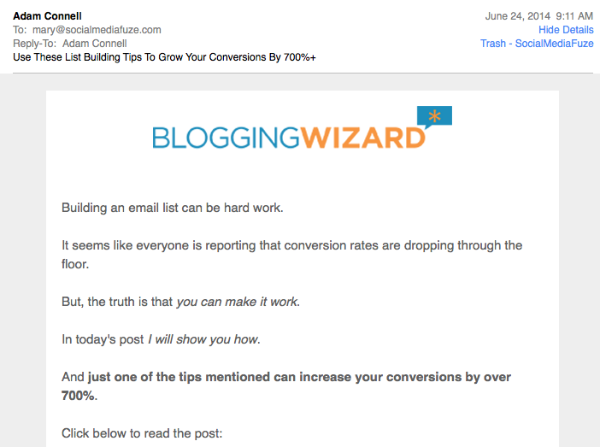 Here is how he is a bit different, and more effective than others in promoting their new blog posts to their email lists:
Never automate a new blog post to be sent automatically to your list
Entice readers with information about what the post says, for instance I might say the following about this post:
Hello Social Media Fuze Readers,
I've been at it again, writing a blog post you'll love. This time it's about HOW to promote your blog posts. While most gurus are telling you where to post, I give you the inside tips on formatting your posts for Facebook, Twitter, email and more. These tips make a big difference in how well your content is received, so head on over and check it out- Link to post
Until next time,
Mary Green
Social Media Fuze
Do you see the difference between that and a simple title as a subject, with an email that includes the entire text of the post?
Forum Signatures
If you are active on any forums online, your signature area is a great place to share your latest blog post. Remember earlier when we discussed different ways to share your blog post on Twitter?
Now that you have shared a few times you should have some idea of what is working to bring more traffic, choose the template for updating Twitter to use in your forum signature. Remember to entice them, whet their palate with interesting headlines, etc.
Influencers
Now that you've been blogging for awhile, you probably know of others in your industry that wouldn't mind sharing your newest blog post for you. It's a win-win when they have followers who would be interested and you have content that pertains to them.
You should have a list of people you can reach out to for promotion help, if not, check out this post by Kapost.
In your outreach to them, be specific and make it easy for them to share. Even write up the share for them and tell them what site you would prefer to have them post on.
Hi Susan,
I just wanted to let you know I wrote a post Content Promotion and I was hoping you could share it to your followers on Twitter for me. I've already written it up for you, all you have to do is click here to tweet it.

Rules for Writing Your Promotional Shares
As you can see there are a lot of small tweaks that can make a difference in the success of your promoted content. Try to keep these things in mind as you work on your own content promotion strategy:
1- Focus on where your most likely readers are.
2- Entice them to visit your link with more than a title.
3- Try different headlines where you can to see what works best.
4- Build a following if you are going to use a platform for promotion.
5- Provide a benefit or value of another kind in your headline.
Content Promotion Questions?
If you have questions about content promotion, ask away. I'll do my best to help you overcome obstacles holding you back from getting your posts shared and viewed across the internet.
© 2014 – 2015, Social Media Consultant. All rights reserved.