Why You Might Need A Full Time Blogger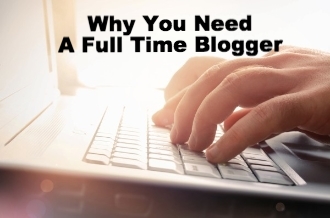 Blogging can be a lot of fun, but it can also be a lot of work. Every blog post you read has probably taken the author multiple hours to write.
For blogs that publish once a day or even more than that (remember the statistic – blogs who post multiple times a day get many more leads?) are sure to spend a significant amount of time blogging, and they probably have more than 1 person manning the blog.
This past weekend I did some updates on my blog that I had meant to do over the past few months.
I write each of my own blog posts so I already knew how much time was needed to write new posts, and distribute content.
What I think a lot of people don't consider as part of the process is the time it takes to find new tools, learn those tools, update the site plugins and replace those no longer working, find a new theme, customize it, and fix issues among the site.
All of these things are fun for me, so I enjoy doing them, but the time investment is pretty extensive.
My Weekend Updates
During this weekend I noticed the SEO rating on each of my blog posts was fairly low. I use the Yoast SEO plugin and out of 140+ published posts, more than 90 needed to be edited for SEO purposes. That was a lot of time.
Then as I was writing an upcoming blog post about inbound marketing through wordpress with plugins and tools, and I came across a new tool I am trying now called Spokal- hence another new tool to install, set up and learn. So far so good, but it was still a bit time consuming. I'm still finding new places to check things out here.
Why You Might Need to Hire A Full Time Blogger
This all lead me to think about the amount of time it takes to run a blog. Here is a list of the tasks I think need to be completed. Perhaps you'll see why you might need a full time blogger for your own company, or at least understand what your bloggers are doing that seem to take so much time.
Writing- blog posts
Optimizing- posts for SEO, formatting, readability and skimming visitors
Images– Finding, designing or editing images for visual content, social media and screenshots
Proofreading the posts- often done by another person for best results
Interlinking posts both on new posts and regularly checking old posts to interlink them to newer posts
Changes– Keeping up with SEO changes – maybe you had guest bloggers and you need to nofollow their links
Design– Installing new themes and customizing them (when old themes no longer work, or you relaunch your brand)
Site issues– plugins that no longer work and need to be replaced, plugins causing other issues with your site
Maintenance– both the wordpress software and plugins need to be updated regularly for security issues
Editing old posts to update with new information
Learning new tools and plugins for future time saving efforts
Distributing content on social media channels, through email and other sources
Editing page information, pricing, terms of service, disclaimers
Calls to Action– Generating new calls to action, and adding graphics for them
Analyzing tracking and reporting information to see where traffic is coming from, what the bounce rate is, and to make decisions about what changes need to be implemented for SEO or other strategic reasons
Building relationships with other bloggers
Guest blogging on other sites
Landing pages– Writing new landing pages for calls to action
Producing downloads, mp3s, interviews and webinars to gain subscribers
Some of these actions are inbound marketing activities, but they are integral parts of blogging today that need to be used in order to run a successful blog.
As you can see, a blogger, or full time blogger needs an entire set of tools, skills, and time to run a blog efficiently and effectively. Here are some tools I suggest:
Blogging- WordPress
Plugins- I find plugins through Google, I like to find free and premium options- Themeforest as well
Themes- Google again- then using theme editor and Cpanel to make customizations- Themeforest
Calls to Action- Magic Action Box Pro (but you can use the free version to get started)
Maintenance- login often to check on things
Analysis- Google analytics or another tool- Cuutio & Spokal are looking promising
Learning- watch wpbegginers blog, among others to stay up to date
Blogger relationships- Feedly– subscribe to other blogs and comment on them regularly
Guest blogging- always check for opportunities while browsing new blogs
Hiring A Blogger
Before you run out and hire a full time blogger, it's a good idea to think of all of the tasks (like above) you need them to perform. Will they only be writing, as many bloggers are hired just to write, or do you want them to handle the whole blog with some input from you?
There are several places online you can go to find a blogger for hire. Probloggers and Inbound.org both have sections for jobs, and it is fairly common to see blog writing ads listed on Craigslist. I recommend Problogger, that is where I find writing opportunities for my own business.
Costs of Hiring A Blogger
Now that you've already considered all of the work you want them to do, please consider paying a blogger what they are worth. If they have years of experience, expect to pay more. As a median I would say around $100 a post for writing a decent post. To get more out of them, I would suggest a weekly or monthly amount with a specific number of posts included.
© 2014, Social Media Consultant. All rights reserved.