20 Facebook & Twitter Updates To Improve Small Business Foot Traffic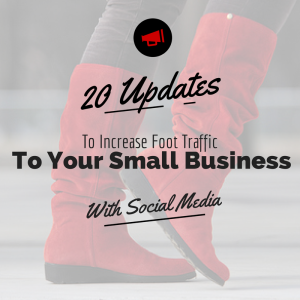 Small local businesses seem to have the hardest time getting social media to work for them. After awhile it's hard to come up with new updates. To help I put together this list of updates you can edit for your own small business.
Updates to Improve Small Business Foot Traffic
City of (your city)- tell us why you decided to live in Atlanta. The best answers gets a free $5 gift card for Amazon- picked up at their convenience.
This weekend we are having a sale- bring a friend and you both get a free gift- there's no telling what it might be. Here's a pic from last time.
Wednesday nights are the slowest time of the week for us, if you come to visit us on any Wednesday night, mention this post for a 10% discount.
We are partnering with Hair cuts place, anyone who visits either of us will receive a coupon for next weekend good at either place. You'll only be able to choose one place to use it.
Love meeting local celebrities? Come in Thursday night to meet our own – (someone locally famous or popular) – They will be signing autographs for all of our visitors. Local bakery will be providing a free cookie to each visitor.
Stop in Friday between 11 and 2 to get a free bread stick with your lunch order.
Time for a change of stock- come in tomorrow night at 7pm to get the first choice on new items.
We're having a party- this Sunday afternoon, invite everyone- the more visitors we have- the more giveaways there will be.
Our new marketing program is sending out an email tonight for next week's Summer sale- you have to sign up to get the discount.
We have a new promotion- pick up your coupon for next month's special any day before the 30th- one per customer. Next month's special is a free (fill in the blank) See you at the store!
Our neighbors just opened, come on down and check out their new store- while you're down here, come in to visit- we'd love to see you.
The humane society is coming on Sunday to advertise their pets up for adoption- come on down, they'd love to see you, even if you can't adopt.
We are participating in the city wide garage sale- come on down to see what we have for our bake sale, and clearance tables- you'll love what you find.
Hate the crowd, but love to shop? Skip the weekend rush and come on Thursday afternoons. The store is quiet and we'll have plenty of time to show you around.
Do your kids like crafts and (latest kids' movie)? Come on down tomorrow and Friday afternoon to let them participate in our drawing contest- the winner from each age group will win a free desert order for the entire family on their next visit.
Save 5% every time you bring a friend in to shop with you. Friends get 5% off, too.
Our large shipment just came in from Ohio (any area) and it's super early!! Can you come in to help us clear the shelves- free refreshments for everyone!
When you come in to check in to our loyalty program you'll start receiving discounts right away- you have to come in to start though.
On every Wednesday night we are holding a family special- stop in for our best deal all week long.
Monday nights we are not open- We know it's sad, but we are around the rest of the week and look forward to seeing you!
The point of these updates is that you have to entice visitors to make a special stop and visit, this is often done with a special, a free gift, a discount or something else special. The more creative you are with your update, and specific you are, the more likely it is to work.
Other Tips to Make Social Media Work For Your Small Business:
Post updates often- multiple times a day.
Keep fans informed, they like to hear about interesting purchases, clients who had problems and you helped them, all of the small nuances of running a business. The more you connect with them, the more they will visit.
Build relationships with everyone who comes to your store, ask them questions, be social and have fun.
Stay active- be in their social streams everyday- until they take you out.
Be visual– share pictures, people love Instagram right now, be there, and post pictures often!
What else works for your business, or other pages you've seen on Facebook/Twitter?
photo credit: Glyn Lowe Photoworks. via photopin cc
© 2014, Social Media Consultant. All rights reserved.