Make and Use Pictures for Social Media Posts
Using images is a great way to get more attention to your posts on Facebook or Twitter. In fact, photos are the top engaging posts on social media. But not all businesses can easily make these photos to use. Whether you just aren't graphically savvy or you just don't know what tools to use, this post will help you easily make photos to use in your posts.
Easiest way to do it:
FireShot Pro to Make Pictures for Social Media Posts
1- Go to FireShot and download the free browser extension (this is simply an additional piece of software that works with your internet program). It is very easy to choose what program you use and download the right version. If you use IE and click on the blue e to get online, click there to get the right version.
2- Restart your browser.
3- In the top right area of your browser you will see a white S on a red background with a drop down menu.
4- When you are browsing the internet, and find something you want to share, click the dropdown arrow (not the S, as it will provide an immediate screenshot) and select Capture Selected Area and… another menu will come up, and you can click Edit.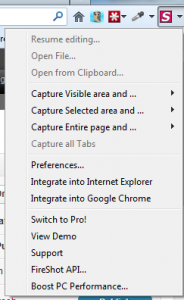 5- You will now be able to select the area you want to capture, and immediately after wards you can edit the photo by adding text.
6- Click the Text button and then click on the photo to begin typing, you can edit the font size in the right menu that comes up.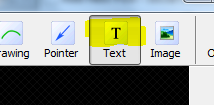 7- Now upload or save. If you save you will have to upload the photo to Facebook or Twitter yourself. If you upload you can just copy and share the link on your account.
More Advanced Way:
Make Pictures for Facebook with Pixlr
My favorite web app is Pixlr.com. I probably use it everyday to edit something for my site. It took me awhile to learn it, but I am now familiar with most of the features. Don't worry you don't need a lot of skill for this, but as you spend more time practicing with Pixlr you'll be able to make more interesting photos.
1- Visit Pixlr.com and click Express
2- Open new image from your computer or via a link (you can use the link to a photo on your site).
To get the image from your site, you can right click on an image, and click Copy Image Location, when asked for the link on Pixlr right click and paste.
The nice thing about using pixlr is you can incorporate your logo with each of your photo posts, what I do is have one image that I open, add text to, save and upload.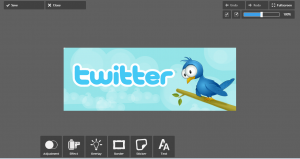 3- Once your image is open, click on the large A in the toolbox on the bottom, you can now start adding text to your image.
4- Click File > Save and save it to your computer, now upload as your photo post to Facebook or Twitter. There is an option to upload to an image host Immnio, and this will allow you to post to twitter more efficiently.
For those who have a higher level of skill, here are the dimensions allowed for Facebook posts and Tweets.
Facebook 400×300
Tweets 405×355
If you need any help or have other questions, post below, call or email. I will look for more tools to use like this.
© 2012 – 2014, Social Media Consultant. All rights reserved.