Your Twitter Bio- What Should It Really Say?
One of the fun things about social media marketing, is that I am constantly coming across different/new ways of doing things on social media, that make sense.
Last Friday, I was adding new content marketing feeds to Feedly (google reader replacement) and as I added the feed, I would go follow them on Twitter, too. Here is one of the companies I had added, and their bio on Twitter.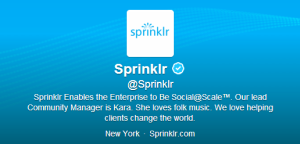 Sprinklr is a social media tool, but what I really liked was the bio:
Sprinklr enables the enterprise to be [email protected] Our lead community manager is Kara. She loves folk music. We love helping clients change the world.
A Bio Isn't the Place for Packing In Your Elevator Pitch
I am so used to seeing Twitter bios packed full of the classic elevator pitch, jammed with #hashtags, and unpersonalized. Heck, mine has been like that at times, too, in the past, of course.
When you jam pack your bio with this information, you are missing the point of social media. The point is connection, building a connection. When you show personality, you allow people to find something in common, understand you are a person too, and build relationships.
But I loved this. First they say here is what we do. But then they tell you about the person behind the tweets (so many companies do not do this, nor do they understand the importance of doing it). Then they tell us a tidbit about Kara- that she loves folk music. This is something we can all relate to, because everyone likes music, right?
Then back to the company, and helping clients change the world. I'm not sure that their product or clients do actually change the world, but at this point, I'm connected with them, and looking forward to seeing what else I can learn about Kara, and their expertise in social media.
Your Bio Shouldn't Be All About SEO
The other thing I see commonly in bios is a bunch of keywords to get SEO attention. This may or may not work, it really depends. But there is one thing it will not do. It won't tell your potential follower much about you.
Who Are You?
Who is the person behind your tweets? Your followers want to find out. There is a fine line between being too personal, and too professional, but when you perfect that formula things tend to fall in place and improve for your message, your brand, and your business.
Take a tip from Sprinklr's bio today, and go fix your own bio. I updated mine, and you can see who my favorite country music singer is, come follow me, and get to know me. @marygreenim
© 2013, Social Media Consultant. All rights reserved.