Brace Yourself- 5 Reasons You Won't Get The Facebook Results You Want!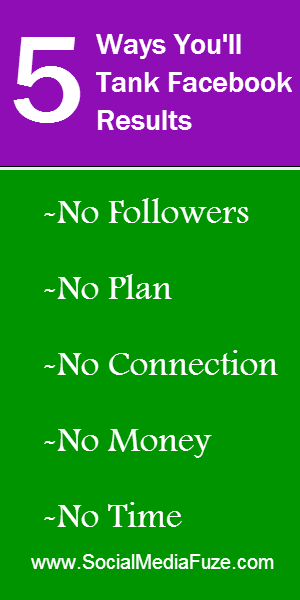 The most commonly purchased service in social media, is content. Updates for profiles and fanpages, pictures shared, etc.
This is just the basics that companies hope will engage more fans to take action. Unfortunately, for most companies this does not turn out to be successful, and here is why.
You Have No Followers
You need a lot of followers, especially on Facebook, to get the results you want.
At the very minimal you need hundreds of followers to get any engagement, and several hundred to get some traffic to your websites and blog posts. The more the better, but, they have to be real.
Getting real followers for free isn't easy…
Growing your fanbase to include hundreds to thousands of followers is NOT an easy task.
Facebook has all but made it impossible for fanpages to grow without paid advertising. But it is necessary.
You will not get results when you have no fanbase, it's the same as running a garage sale on a dead end road that gets no traffic, without signs or advertising.
You Have No Plan
When you hire someone to just provide content, they are missing a huge piece of the puzzle, a plan. When there is no plan, they spend their time entertaining your followers, not preparing them to be beneficial to your business.
They aren't being turned into leads, strategically shared links with to increase traffic, or working on a goal that will help your company. Content is just content!!
The best plan is a 90/10 ratio of value to promotion…
The easiest way to do this is to post twice a day, and once every five days include a link to your own website, newsletter, etc. Value posts are able things your followers will want to see and read, shared posts from other fanpages, etc.
 You Don't Care About People
The whole point of social media is connecting with others. When you hire someone to simply post updates, you aren't asking them to connect with fans, engage with their comments, post updates asking about them, and taking each of their responses, private messages or 'likes' as an opportunity to connect.
Treat fans and followers like people who walk into your store, and turn them into your friends…
It isn't easy to build relationships on Facebook, when it is so hard for fanpages to reach fans, all you have is your updates, and if they comment, share, like the update, so you have to take advantage of this opportunity. Every time someone responds to you, reward them for it, and continue the dialog.
You Expect An Obvious ROI
It's difficult to make social media return on investment when you look at it like an investment, and not something you need, like customer service. Social media is no longer an optional partner to your website, it is now a necessary partner.
When you first got your website, you might have considered how many more sales it would bring in, but for small local businesses, it's more about having an easy place for people to find your information, and use it.
You usually won't know when someone comes because they find you online, but you keep the site up.
Have a strategy and know what kind of social media services you need…
Instead of focusing on the ROI, focus on whether it is increasing exposure for your brand, people are responding and commenting, and you are continually getting new people to your social media profiles. As long as you then offer a way to tie in your services and products, customers will follow.
You Won't Give It Enough Time
It takes time to build a following on social media, and then even longer to make it produce the results aligned with your goals. The most common problem is that businesses don't put in the full effort to build a following and then keep up with them. Social media needs a constant effort, and without it, it is too easy to fail. Please give your campaign at the very least 3 months of continuous effort.
3 Months is the very minimum to give any social media campaign…
© 2013, Social Media Consultant. All rights reserved.