7 Reasons 'Facebook Fraud' is Seriously Flawed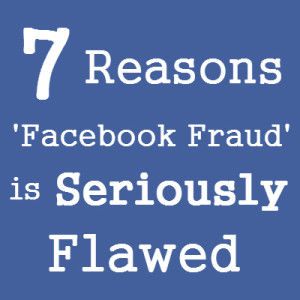 You've probably seen the 9 minute 'Facebook Fraud' video by Veritasium.
I'll just say I love his videos, they are entertaining, educational and refreshening (or quality content in case you've seen my recent tweets).
But, I've been asked my opinion on 'Facebook Fraud', so I wanted to put it out there.
In all reality I agree with Jon Loomer about this because he's spot on. I wanted to throw in my two cents, for my followers and anyone else wanting a quick read rebuttal post.
Let's go:
1) Targeting Was A Major Issue in Facebook Fraud-
In the Veritasium example he didn't turn off the 'fake profile' countries that are 'like happy'.  This major oversight contributed to the fake likes received and the decrease in engagement.
2) Not Enough Data In Cat Fanpage Experiment-
Being that I have a background in PPC on Adwords, I can attest to the fact that the 252 cat fanpage likes are less than necessary to make a data based conclusion.
3) Untargeted Updates Don't Work, Either-
In the Cat fanpage again, he didn't target the update to cat fans at all, thus showing that people were not interested in his experiment but cats, and we all know pictures are much better for cat fans than text updates.
Further- it reached 8 people only out of the 252, I didn't see what time of day this was, but my thought is that your updates exposure is closely related to the success of past updates, and he didn't discuss those.
For instance, if I wrote on my guinea pig page that I love hunting, I wouldn't get much of a response- right?
4) Facebook Isn't Trying to Take Advantage-
To make these fake profiles seem real, like farm accounts like a LOT of fanpages, liking ads for likes. Unfortunately, this is a reality we have to deal with and it isn't Facebook we should blame for it.
They do delete accounts they find to be fake, but not a lot of them are easily distinguished as fake. Many are accessed daily, updated often, and seem active. So no it isn't about making money off screwing fanpage owners, they can't just go out and delete every account that likes too many fanpages.
5) Data is Old, A LOT Has Changed Since 2012-
As Jon pointed out in the data in his rebuttal, this information is from experiments done in 2012. Since then Facebook has made great strides to improve targeting, to give users more control over who sees their ads.
6) We Already Know Facebook Ads for Likes Are Less Productive-
Unless you have tracking that shows otherwise, Facebook ads for likes may not be the best way to turn a Facebook presence into money. Of course, you can spend some time testing this, and that is fine, but keep in mind that Facebook only gives you access to 16% or less of your fans on average, that includes purchased fans through Facebook advertising.
To reach the people you are getting as fans you need to pay to reach them- keep that cost in mind. Also keep in mind that organic fans are usually worth more to businesses. I do have to say though that Jon Loomer's fans are probably worth more than the average fan is, as he is an expert with using Power Editor and Facebook ads.
 7) Too Few Fanpage Samples-
There are only THREE samples in the Veritasium video. The name of the game with advertising and especially any kind of pay per click or impression advertising is targeting, and that was not used in two of the samples.
The same things happen on Google Adwords. The major thing here is that these campaigns do much more than ask for likes, they ask for real information to access people in the future.
My Opinion- Advertise Carefully- Target & Track- Take Time to Learn
Where Facebook Is At Fault:
As one of my subscribers pointed out, using Facebook Advertising is much more complicated than they make it out to be. I don't recommend people use the 'easy' solutions of page and post promotions because it takes away a lot of the targeting options. This is Facebook's fault because they do not fully explain the risks.
I should also say you can delete fake fans, and should. They impact post promotions, unless you do them as Jon Loomer suggests which is a much better way of marketing.
Summary: The 'Facebook Fraud' video should make us all think, not about leaving Facebook (because then we lose the access to fans we do have, and the opportunity to grow infront of a billion people), but about being careful in marketing, which is and always has been an important part of being successful.
Tell me what you thought of the video below- I can't wait to hear your response.
© 2014 – 2015, Social Media Consultant. All rights reserved.