0% Organic Reach on Facebook- Will This Be You?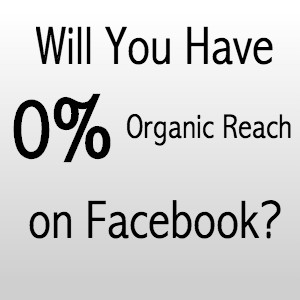 I posted this on my fanpage and a friend of mine loved it and suggested I share it on my blog. I really want to know- what do you think?
Should companies prepare for the day when organic reach on Facebook will effectively be Zero?
A recent Ad Age article states this and I don't agree.
The assumption was based on information from 26 pages over the past few months (since October).
My biggest 'issue' with the statement is that they were talking about fanpages with over 500k fans.
In my experience fanpages with that many fans are at least a few years old, meaning there are several fans that will have lost interest over time.
Losing interest over time is normal. Most humans don't focus on one topic their entire lives but pick up hobbies and drop them according to time, energy, etc.
Now should they be able to reach all of them? That is up to Facebook, but it seems that most fans don't get too upset when they stop seeing brands in their feeds- it's the marketers and fanpage owners that get upset. That should tell us something, but alas, that is not what I am talking about now.
So the small percent of people they actually reach are more likely to be recent likes, who have responded somehow to recent updates. If you took their likes from the past month and measured that reach instead, I think the results would be much different.
Additionally we know very little about these fanpages, what their campaigns were, what types of updates, etc and as we all know this is greatly related to success on social media.
For instance, I have a small fanpage with less than 500 fans that I do not regularly update, but when I do I almost always reach half of the fans, because the updates are very targeted to what my fans like. Yes it is a small number of fans, but I've seen it time and again in several client accounts.
Why Big Brands Have Low Reach? – A Possible Answer
I don't think Brands with 500k fans tend to have extremely targeted campaigns. The trend in social media is to share what you think a large portion of the people who will see the update will enjoy, fortunately on Facebook that means broad updates that are not targeted.
I would assume that companies like OREO, Chips Ahoy and Walmart have easily distracted fans, that have 'liked' them but really have little interest in getting their updates.
You might shop at a local Walmart but how much do you care to hear about corporate wide updates? Besides being slightly entertained by Oreos what do you really get from following their fanpage?
Important Issues for Social Media Managers
I think this raises issues for social media managers. We worry about reach, but in doing that, we need to provide our fans with the missing factors that lead them away from us. We need to get them to care, and to be active with the brands we cater to.
It isn't simply about getting them to like the page, because that doesn't last forever. It's about getting them to love the brand, the people behind it, the actions the brand takes, share it with others they care about, etc.
The brand needs to be worthy of return fanpage visits, by keeping things interesting, entertaining and meaningful. It has to serve a purpose, something most fanpages don't do.
This is why social media isn't easy. A lot of thought needs to be put into every campaign, every platform and every update to get significant results.
But if you simply work on growing your likes, and running mediocre campaigns that do not move people, maybe in the future, your organic reach will be Zero- it just isn't acceptable in my book.
© 2014, Social Media Consultant. All rights reserved.