4 Methods for Conquering Low Facebook Reach
For years you've pushed people to like you on facebook. Possibly you've used signs at your store, you've included the link on business cards, asked people to search for you there, etc.
Then you login and notice that only a small part of your fans are seeing your updates– how disheartening. I know how you feel, I have multiple clients who are in the same boat, and we are always watching Facebook for changes and trying to make new plans.
But what about you? What should you do? Is Facebook even worth your time anymore?
Why You Should Stay Active on Facebook
For starters I'd like to say that I still recommend an active presence on Facebook if your company can facilitate it- either the costs or the time to do it. Here is why:
Most companies are expected to be on Facebook – so that they can easily search for you.
You already have access to some fans there- I wouldn't abandon that if you can afford not to.
There are other ways to grow support for your company on Facebook- we will talk more about this later in the post.
It is still the largest audience in social media.
Chances are you are already active personally, business should be able to be handled in a few moments of time, at most, when you are already on.
Your Current Fans & Who You Are Reaching
As seen several places online, Facebook reach (who sees your updates) is getting lower and lower. But that doesn't mean you have to panic. Here is why I think it isn't all bad:
The people you are reaching are most likely the newest (most interested) fans you have. These are people who just liked you and really enjoy your company.
You NEED to have a funnel/strategy for getting fans to become email subscribers– where you will not lose them. If you have this in place, you can still make a profit from Facebook.
Another set of the people you reach are those who are on Facebook when you post. By knowing when the best time to post is, you can extend reach up to 100%.
Here is my plan of action for you:
Post When It Matters- When Is The Best Time to Update Your Fanpage?
Find out when the best time is to update your fanpage- these screenshots and directions should help:
At the top of your fanpage admin section, you will see the following:

Select- See Insights
This will bring you to the overview- Select Posts from the same navigation in grey:

You will immediately see When Your Fans Are Online: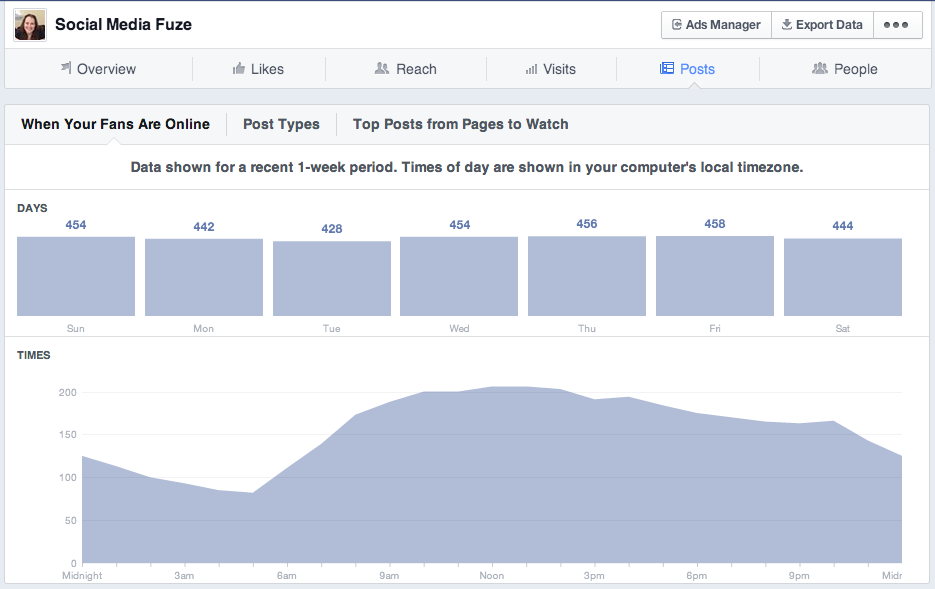 From here, you can see that most of my fans are on Wed- Fri and from 11am to 2pm. I should write my daily updates (if not multiple daily updates) during this time.
Keep Your Fanpage Updated- Using the Facebook Scheduling Tool
Keep your fanpage updated (you can even schedule updates days a head of time) daily. I recommend using Facebook's schedule tool, here are some screenshots to help:
First, go to your fanpage and go to where you would post a new update.

Click the little blue clock in the bottom left corner.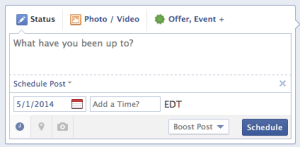 Click the calendar icon, or in the box with a date.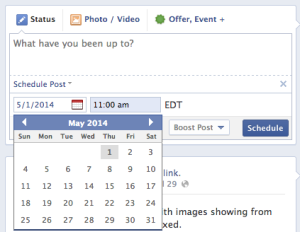 Select your date, and time.
You will receive a pop up telling you what you just scheduled and where you can view all scheduled posts. You can also choose to schedule another post at this time.

https://www.facebook.com/SocialMediaFuze/allactivity- This is where you will find all of your scheduled content, replace the name of my fanpage with your own to get the right link. Here is what it looks like:

Schedule updates to be posted at the best time of day, based on the instructions from above. Check these times regularly to make sure you are achieving the best reach possible. I recommend once a month.
Get Email Subscribers- Keep Fans For Life
When you get new fans- engage them. Here are a few ways you can do this:
Find them on other social media platforms– search their name on Twitter, Pinterest or Linkedin and connect with them there.
Search for fans on Google. If the images match, you've got your fan, now build a relationship so you can invite them to subscribe.
Keep your newsletter updated– and when you update it, tell your fans about the update and where they can learn more- put a link to the newsletter sign up in comments.
Have a great offer for signing up for your newsletter– currently mine is a guide of 52 of my favorite social media tools– people love tools
Ask fans what you can do for them– Welcome new fans every few days or once a week and offer them a special gift they can get through private messaging you, in the private message- tell them about your newsletter.
Promote your newsletter to current fans on Facebook for $10 a month, this is called remarketing and it can provide impressive results.
To do this, you will need an email program, I use Get Response you can check it out here, it begins at $15 a month. I've used others in the past but none that I like as much, however for many MailChimp is free and can be used for business purposes, though not affiliate/referral links.
A simple, monthly newsletter is all you need to stay in touch with fans, though you will find that your list of email subscribers is more responsive as you contact them more often.
Other Ways To Grow Support For Your Company On Facebook
As I stated earlier there are other ways you can get support from others on Facebook. Let's discuss them now.
1. Using Your Facebook Profile For Business
I used to only use Facebook for personal relationships. Of all of the people I met online, I would only personally connect with them after several conversations and months to years of going back and forth in other places.
But then I realized that most of these people didn't want access to my personal information, they just wanted to connect to build relationships.
Types of Friends on Facebook
I started playing with the different lists Facebook allows a personal profile to have. There are 3 that are quite specific-
Friends– The people who you are closest to, they can see everything you do.
Acquaintances– People you might not know as well, they can access your updates based on the restrictions you make here.
Restricted– People who can't see anything you do, unless you specifically tag them into it.
Who Sees Your Updates
Along with that, Facebook gives us the option to post to Friends, Friends except Acquaintances and Public, as listed below:
Friends– those you are connected with.
Friends except Acquaintances– those of your friends you are closest to.
Public– Everyone on the Internet can see the update.
What I Do to Keep Business & Personal Separate
Once I realized I could use my FB profile for business too, I started adding more friends as Acquaintances. You can do this by hovering over the person's name in most places on FB and select Acquaintance.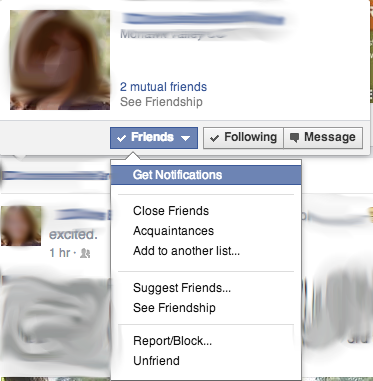 Now when I want to post something on Facebook, I use the Friends except Acquaintances option. You'll find this in just any place you want to post, like the following.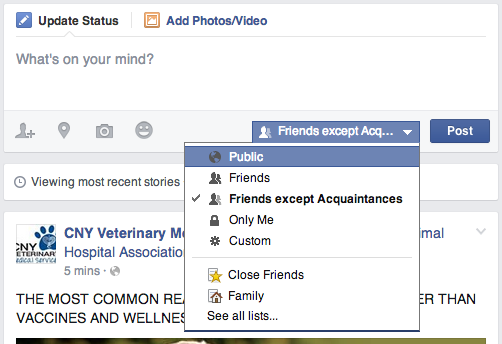 By selecting Custom in this picture, you can select to only share an update with Acquaintances.  Choose Specific People or Lists and type in Acquaintances.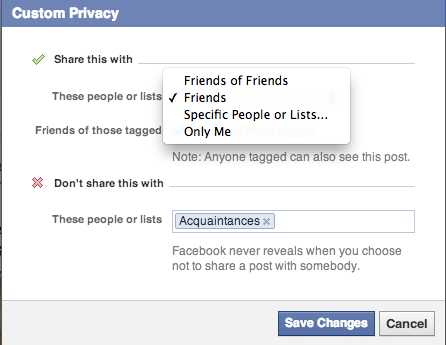 To edit this groups, on the left side of your newsfeed page, find the Friends section and select more when you hover over Friends.
You'll see a list of lists, select Acquaintances
You'll get a feed of your Acquaintances, and on the right side of the page, under the cover photo you can select Manage List- select update types or edit list to add or delete people.
Now you can start adding more connections while keeping your personal updates and pictures of your kids private. 🙂
2. Engaging In Groups For Business
Groups are a huge part of Facebook, and you can use them for business. You won't have to personally connect with every person who wants to join, and you can actually tag people into posts- unlike on your fanpage.
Cendrine Marrouat of Social Media Slant recently started a group for her followers and it seems to be going very well for her.
I would recommend, if you try this, to provide a group topic that a lot of people will enjoy and make sure it is related to your business. This can be a study group for your topic, a support group for your services, etc.
Unless it is completely necessary, I would make the group public, and I would still consider having a fanpage because it is fairly simple to keep and include updates on. Plus as I've stated before, you still have access to some fans there.
In the group, I would continue to talk up your newsletter, as it is just as easy to lose reach with your group as it is with your fanpage.
3. Stay Active on Other Fanpages
Monitor other fanpages that are highly visited on Facebook. When these pages update, login as your fanpage and comment (intelligently) as your page. Add to the conversation, give your expert opinion, and interact with others to get more fans and visits to your fanpage.
I like to monitor Hubspot's fanpage, Social Media Examiner's and JeffBullas.com's page.
Summary for Using Facebook With Low Reach
There are still many ways to use Facebook for your business, without spending a lot of money. While I do recommend paying to play, even with very small budgets, I would only tell you to do this if you know exactly how to do it for results. In the mean time, try these other opportunities and let me know how it works for you.
To sum up this post, I just want to reiterate the most important points-
Stay active on Facebook- you still reach some fans, even if it is much less
Use Facebook as yourself and build relationships with other business people
Consider using groups to get more reach and bang for your buck
Comment on other fanpages
BUILD YOUR EMAIL LIST!!!!
© 2014, Social Media Consultant. All rights reserved.