Social Media for Small Business 101 Part 1 What Is Social Media?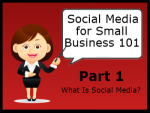 Last week I was contacted and asked to be part of a group of experts for different online marketing topics at Online Business Insiders.
I was recommended by 2 friends who said I could be the social media expert. I love sharing what I know, and keep learning about social media, so I jumped on the opportunity.
But during the last week as I am suppose to be building my section of the forum, it has come to my attention that I am not as in-tune with my intro to social media visitors as I thought.
So, over this weekend I've spent some time putting together a series of post ideas to reach out to those who are VERY new to social media. I hope I do well with this, and as always, if you have any questions, ask in the comments.
What is Social Media?
Social media are websites like Facebook and Twitter that allow you to connect with others (of your choice) and share everything you find online- websites, photos, videos, articles, etc.
Why Are There So Many Social Media Websites?
Each social media site offers a different way to connect, different setting options, different ways to share, and additional features that make the platforms (by the way that is what a social media website is, a platform) unique. Each of these unique platforms attract different crowds, some are for different crowds (LinkedIn is for professionals), and some overlap.
Why Is Social Media So Important for Small Business?
Most businesses find social media websites attractive because there are so many people there, regardless of your product or service is, you will find interested people on social media. Twitter has over 500 million people and Facebook has around 1 billion, in fact in the U.S. alone over 93% of adults have a social media account.
Each platform has some kind of profile or account that allows businesses to participate, on Facebook you can get a Fanpage, on Twitter, a regular account let's you specify your company website.
All of these accounts are free, and while you can hire someone to set them up or manage them, you can also run them in your free time, and use them to get more interest in your business.
This all assumes you know how to use social media, but if you don't you are in the right place. Put your email address in the box to the right to get all of the updates to this course, it's Free and I promise to invest as much information as I can into it.
Get Your Small Business Social Media Accounts:
Starting tomorrow I will lead you through the individual features and set up of Facebook, Twitter, and LinkedIn (1 day each) These will be long posts, but you can get the full posts in email, which makes it easier to print. So I will see you tomorrow, and if you have any questions, ask below.
© 2012 – 2014, Social Media Consultant. All rights reserved.