What Is Sprout Social? My Favorite Social Media Software
Being in social media, means I have a LOT of options when it comes to social media software. There are programs that have all kinds of features, and I would love to try them all, but you, you don't have time for that, so I want to tell you about one I just started using, and plan to use for quite awhile.
What is Sprout Social?
Sprout Social is a software, or website that allows you to easily manage your social media accounts. Please, let me stress EASY! This software is very intuitive, it allows you to easily login access all of your accounts, make posts, check for the latest updates, and more. You'll never guess where you are, or what you should be doing.
Home– When you login you get a snap shot of each of your accounts, it even tells you how well you are doing on each account for engagement and influence.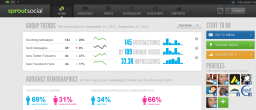 Messages– If you are anything like me, you hate it when you get one email after another from Twitter telling you about a new follower, a new DM, or mention. When you get a lot of these each day, it's a bit annoying, but on Sprout Social, you just go to your messages tab, and scroll through. If you want to follow back, you can do it, right there. If you want to reply, you can do that from there as well. The Smart Inbox is awesome.

Feeds– See your Twitter feeds, RSS Feeds (that you can immediately share as links on Facebook or Twitter) and LinkedIn feed. You can also retweet, reply, mention, etc in this tab. Simple!

Scheduler– I agree that just about every tool out there has a scheduling tool for messages, and while I don't recommend using it for all of your messages, it can come in handy, especially this one.
Calendar– see all the posts you have scheduled in a calendar, so much easier than guessing what days you've already covered.
RSS Feed– put your blog feed in, if you want to auto post to social networks.
Queue– similar to bufferapp this allows you to add links and posts that will go out at the perfect times for your followers, there's even an extension for Firefox for it.
Discovery– I love this tab!! Thank you Sprout Social!
This is all about finding people that you aren't following but should, unfollowing those that are no good to follow, and then searching for people that are related to a keyword for you to follow.
I like to keep who I am following clean, because I like to enjoy reading my feed (the updates I see at Twitter). What I like even more is that I can switch between my accounts and clients' to do different things, with out having to login and out.

Reports– This is the reason I actually joined Sprout. Their reports are fantastic, gorgeous, and easy to send along to clients. The reports cover Facebook and Twitter, and give a ton of insight into who is following you, what is engaging them, where they live, and when they are more likely to share your posts. I love this stuff, it gives you so much information. My clients love it too. It couldn't be simpler.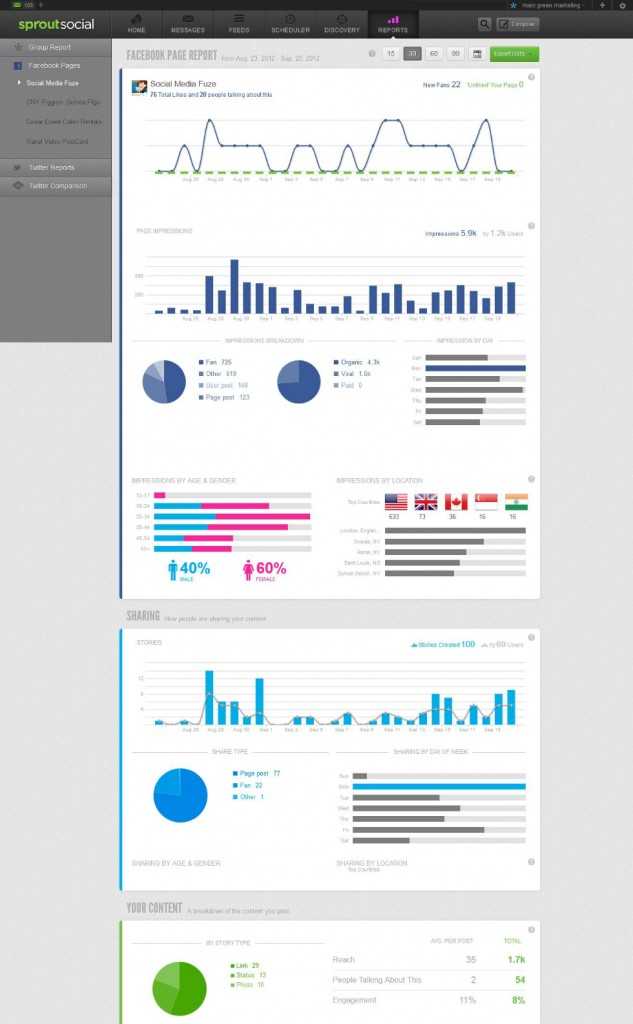 There's more: Free iPhone App
In addition to the extension that makes it easy to add posts to all of your social media accounts, there is a free iphone app, too.
How does Sprout Social compare to others:
Sprout Social vs Hootsuite
As I've stated before, for me, Hootsuite is less than user friendly, and it takes awhile to learn. They offer a lot of great features, but I (nor you most likely) have better things to do with my time. But I do have a paid account, because it allows me to have access to all of my social profiles, at $10 a month. I would suggest Hootsuite to anyone that needs access to a LOT of accounts, or is a professional social media marketing provider, but not to my small business clients.
Sprout Social offers a free trial for 30 days, and is then $9 a month for 5 social media accounts. It isn't ideal for me, but they do offer larger accounts, if you need them. However, for the average socially active small business, $9 is well worth it, and you probably do not have more than 5 accounts. I promise you will Sprout Social easier to use, especially if you need to save time.
Conclusion:
I've spent the last couple of weeks fully enjoying Sprout Social, and this is well past my free trial. I also have a Hootsuite account, but I feel you just can't compare the reports, discovery, queue, etc. Tell me what you like about Sprout Social, and Hootsuite below, I'd love to chat more about it.
© 2012 – 2014, Social Media Consultant. All rights reserved.