Don't You Wish Your Fanpage Was Hot Like This? Kiwi Crate's Facebook
I've been meaning to write more blog posts about companies I see doing social media well. I'm hoping it will help small businesses such as retail stores expand their ideas, and get even better at connecting through social media. This week I'd like to share a favorite fanpage of mine- Kiwi Crate.
Let's Jump In! The Kiwi Crate fanpage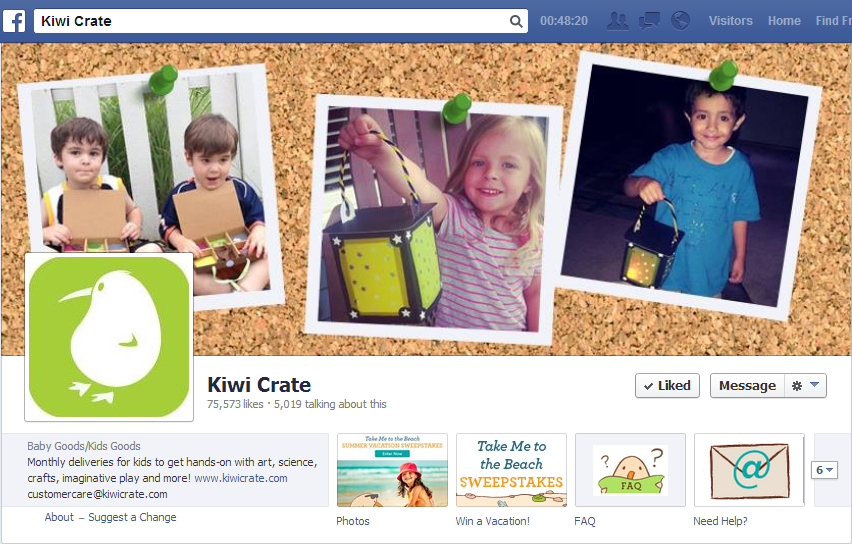 Kiwi Crate is a monthly kids' package with fun activities. Every month is a surprise and of course, the kids have a lot of fun.
What I like right away about their fanpage is the visual effects of it all. Their profile picture is their logo, but they have a great cover showing kids with finished projects, all smiling of course, which tells Mom, "Look, this is fun, get one for your kid!"
Their tabs all look professional without being too tied into a specific design, and it just feels like a friendly fanpage to visit. As a mom, I'm thinking "This looks fun, even for me".
They've done a great job writing up their about section to include a link to their website, something so many forget to do.
Likes & Talking About This
You can see they have 75,000+ likes, a great number for social proof (meaning more people might like it just because so many others do). They even have 5,000+ people talking about their page so they obviously have a great amount of followers who enjoy what they do.
Visual Content- Lots of Pictures
Scrolling down the fanpage there is a LOT of visual content, which Facebook is all about. They push using photos quite a because it looks so much more entertaining than plain text.
I like how they have a pic with most of their updates, but not all of them. Remember when you use a combination of types of post you get more information about what reaches your followers, what is being shared, etc.
Giveaways & Promotions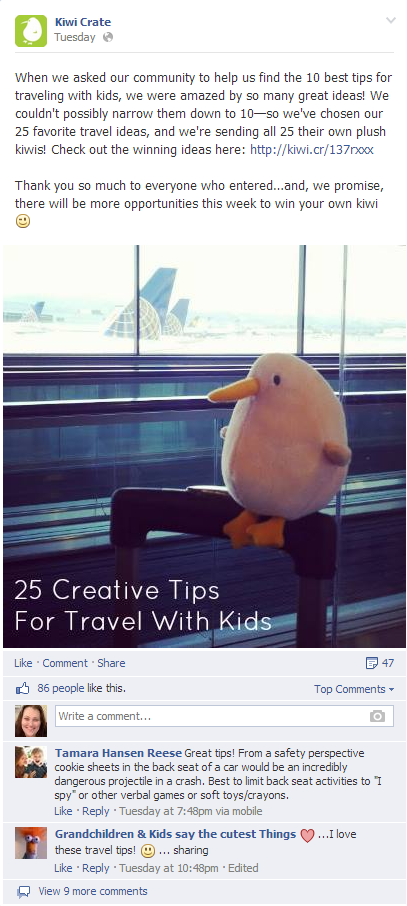 As you read through some of the posts you can see a $10 off promotion, and a giveaway for a Kiwi plush (how cute). The giveaway is based on some tips they received from readers about traveling with kids, which is something most parents have to do each summer. This really hits home with their core target market, because it is useful information parents need.
What I really like though is that Kiwi Crate thought to pin this for others, and then the response they gave, with a promotional code for readers to save a bit of money. What a great idea that says "We love our readers, and we want to reward you for loving us!"
Theme on the Fanpage
You can see lots of pictures of the friendly Kiwi throughout the fanpage in different activities, such as watching a child color, surfing, or playing in the yard with chicken. This is a cute idea, and one I hope others will use with their mascots. It's fun to see what Kiwi will be doing next.
DIY Projects
I have to say as I scrolled through the page I was hoping to see some project ideas, but I did finally come across them. I like that they are sharing these, and I bet you would find some of them on Pinterest, too.
I think it would be nice to see more of these projects coming through, especially during the summer months when moms have so much time with their kids and kids have so little to do. But this is a great addition to the page.
Regular Posting
One last thing I wanted to point out is regular posting, almost daily and sometimes more. This keeps Kiwi front of mind for the followers and entertains people to come check out the site and fanpage often.
Summary- What You Can Take Away From Kiwi Crate's Success!
Looks great- beautiful design
Visual content- lots of pics
Fanpage themed with mascot- fun!
Lots of likes and talking about this- social proof!
Giveaways & promotions- showing fan love
Sharing fan shares- more fan love
Projects & tips- giving you info to make life easier
Daily posting- staying front of mind- great for branding
My only suggestion: I really like this fanpage, as a mom and social media manager, but!! On their website the icons to visit their fanpage are on the bottom of the site- who looks there? I always recommend the top of the site and perhaps a graphic telling you why to follow them on social.
Tell Me! 
What do you think of the Kiwi Crate fanpage? What would you change, what would you add, what do you want to replicate on your own fanpage?
© 2013 – 2014, Social Media Consultant. All rights reserved.