3 Steps to Building Relationships with Social Influencers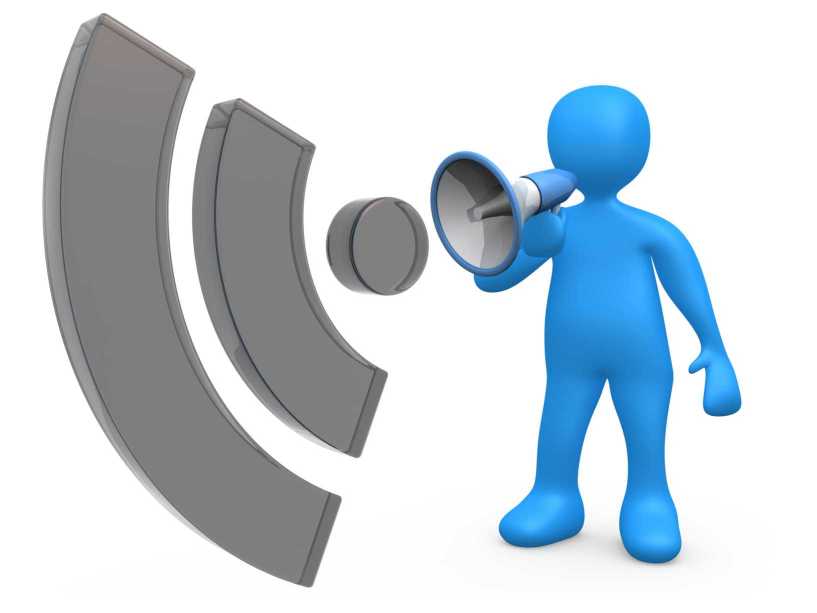 Do you have a good relationship with social influencers in your industry? Do you know who they are, are you following them on Twitter? Do you actually read/see their tweets?
If you are like other small businesses on Twitter, you might spend a few minutes here and there dabbling in tweets, following who you think is important, and promoting your own links. There are a million blog posts out there that say you should be doing it one way or another, and while each of them has its place, I wanted to focus on how building relationships with the social influencers in your field can make a drastic difference to your business.
Who Are Your Social Influencers?
Basically these are the people in your industry that are already seen by others as authorities on Twitter (or another social marketing platform, but we are focusing on Twitter here). You probably know who is an authority in your industry outside of social media, so the first thing you can do is make a list of their names and search to see if they are active on Twitter.
*Quick Tip- What I do is go to Google Blog Search or regular Google search and type in an industry, most people that have a blog are on social in some format, from there I go visit their Twitter profiles- But Wait, Don't Follow Them Just Yet!!
I'd Love to Meet You on Facebook- Come Say Hi!
Hashtags or Search to Find Industry Authorities
It's rather simple to search Twitter and figure out what hashtags are most prominent in your industry. For instance in mine, #socialmedia is a big one. All you do is look for a big name or two and then look at their tweets, make note of the hashtags they are using, and search those hashtags yourself to find more big names.
*Find authorities by seeing who your favorite users are following, some of them only follow authority accounts, which makes your search much easier.
Build Your List of Social Influencers
Now I don't mean an email list, though you are welcome to build one if you are using an autoresponder. I mean a Twitter list. When you go to a user's profile you can click "Follow" then in the dropdown box next to "Follow" (in photo below) select "Add or Remove from Lists" Once you select this a pop up will come up asking you to select the list, or create it. I suggest you create a list called Influencers. If you are in multiple niches you can make lists for each industry and name them appropriately.
*I strongly advise you to make this list PRIVATE!!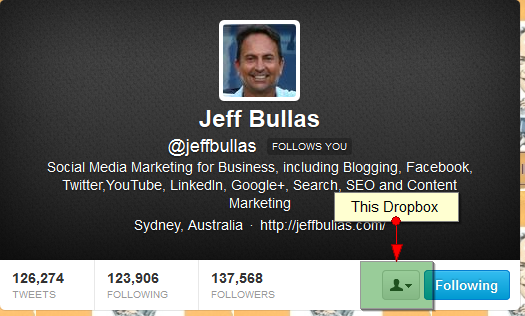 What is So Important About Your Social Influencers List?
Now that you are keeping track of certain (important) users on Twitter for business, your life becomes much easier to build the relationships you need to for these reasons:
You can logon, go to your list, and respond to these people only, when you are limited on time
You can build lists of other types such as prospects, favorites, clients, etc
You can set up most social media tools to show content from your lists ie: Sprout Social, Hootsuite, MarketMeSuite
You can get the information you need about your industry much faster
You don't have to weed through your entire feed (it gets very messy after a few hundred followings)
You can find great information to retweet quickly and know that it is coming from a trusted source
How to Build Your Relationship with These Authority Users
So now you know how to find them, what do you do from here? First you want to watch your influencers' tweets to see what they are doing on Twitter, some are there just to promote their products, and that would be a great way to start a conversation with them. You can retweet for them, give them your feedback, ask questions, etc.
If they are there just to be social, that is even better, it means they are there to build relationships. You can do all of the same actions listed for promotional users but you can also reply to their personal tweets on a regular basis.
Here are some other ideas:
Tweet other content from their site
Write content about them and mention them
Ask for their feedback on your content or website (once you've had a few back and forths)
Add them to authority lists for the public
Connect with them on other platforms
*Remember these are people, so don't bombard them with your content, stalk them, or harass them. You are building relationships here.
Why You Want These Relationships!
Perhaps I should have started with this, but when you have these relationships with influencers in your industry, you can reap a lot of benefits, such as:
They will retweet your good content
You might be approached for joint business deals
You become friends
You gain a mentor
You learn- so much!!!
Feedback from others that know your market
Helping hand when you need it
For myself I've been able to build relationships with fun people that enjoy the same topics and industries that I do. They understand the nuisances, how hard it is to be in that line of work, and can truly appreciate my successes when they happen. I've made friends, increased website traffic, helped others, earned more business, and enjoy my work even more.
Need Help Building Your Lists? Get Started by Having Us Provide You a Social Media Analysis!
© 2013, Social Media Consultant. All rights reserved.