Using Facebook As A Fan Page
There is a lot you can do once you are using Facebook as a fan page. For one, you can comment on other fanpages and get more exposure to your own. I use this for local accounts on news fanpages, and other local businesses.
Start Using Facebook As A Fan page- It's Easy
When you login to Facebook you will see the following image in the top right of your screen. You should see your personal icon next


Click the arrow pointing down to see your list of fanpages.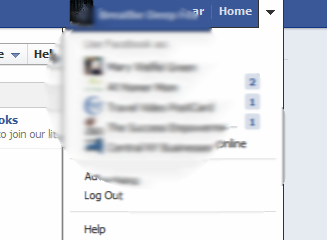 Select your fanpage.
Now you will see an admin area for your fan page, and your Fanpage icon where your personal icon was. You will see your name replaced with the fanpage's name.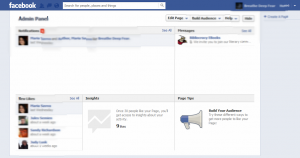 You are now using Facebook as a Fan page. All of the likes, comments and shares you do are from your fanpage. Go to the Facebook logo in the top left and check out your fanpage newsfeed, we will be discussing it in other posts.
Once you are using facebook as a fan page you should login this way every time you go to post on your fanpage. When you do this, go to your newsfeed and start participating on other fanpages- this can make a big difference to your exposure, especially if you are active on very popular pages.
© 2012 – 2014, Social Media Consultant. All rights reserved.