Facebook for Business- Important Posts Every Fanpage Owner Should Read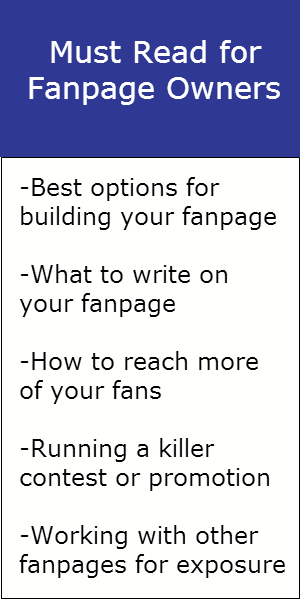 Facebook can be a great place for businesses to connect with customers and potential customers, but it isn't always easy for people who are new to using Facebook for business to figure out what they need to do.
Hopefully this post will help all Fanpage Owners.
Create Facebook Business Fanpage– In this post, we go over how to set up your fanpage, this is a great walk through if you need help step by step. Plus there are tips along the way, on how to get the most out of having a fanpage.
Other Companies' Fanpages– Learn how to use other fanpages to get more exposure for your fanpage, learn about your newsfeed, and how not to spam other communities on Facebook.
Things you should know about Facebook and Fanpages
Cover photos should be 851×315 pixels
Cover photos may not have more than 20% text – or they will be deleted
Contests may only be run through applications, not by liking, following, sharing, etc
Running a Facebook Contest– Why you can't run your contest without an application
How to Grow Your Fanbase– To get more results you want more fans, read this to see how to get them
Make Your Updates Reach More of Your Fans– A trick you can use to reach more fans with your updates
Why Businesses Fail to Be Successful on Facebook– What you can watch out for, to be successful on Facebook
How to Moderate Fanpage Comments Effectively– When to delete what your fans write
Why Your Fans Don't See All of Your Updates– How Facebook is setup to allow you to reach your fans
What You Should Post for Updates On Your Fanpage– Popular update types that your fans want to see
Putting Together A Plan & Strategy for Facebook– Everything is more successful with a plan, put together your strategy with this post
These are all Facebook posts written here on Social Media Fuze, to help small businesses get better results from their fanpage efforts. We love helping small businesses grow, and using social media is fun for everyone. If you have any questions about these posts please just ask, we are here to help.
Enjoy!
© 2013, Social Media Consultant. All rights reserved.